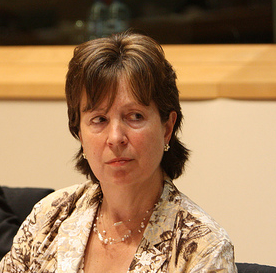 It has just been announced that Diana Wallis is putting her name forward as a candidate for President of the European Parliament. She's a long-standing Vice President of the Parliament, and is a British Liberal Democrat (who form part of the centrist ALDE Group). News about her candidacy here from European Voice, and her own statement here.
There are two candidates in the race already – Martin Schulz (thought to be odds-on, as the deal was that Jerzy Buzek would do the first half of the 2009-14 term and Schulz the second half) and British Tory Nirj Deva (who doesn't have a hope, well, because he's a British Tory).
The real issue here is how much threat is Diana Wallis to Schulz? While the latter was unanimously backed by the S&D Group as their candidate, I know he is not universally liked within the group (and I've expressed my discontent about him before). And if Schulz is not universally liked within the S&D, what about within the EPP who are supposed to back him now? Earlier this year there was an effort by the groups of the centre and right to tie up important fisheries reports to the exclusion of the centre left (although this was subsequently overturned) – will this determination be replicated when it comes to the decision for the Parliament's top job?
I can't read how all of this is going to play out – I just don't know enough about the internal dynamics of the EPP. But Martin Schulz must be today just a little bit more nervous about his future prospects than he was last week.