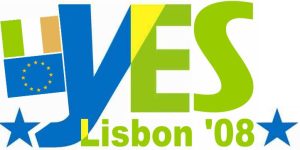 The No side has – alarmingly – surged into the lead in the opinion polls prior to the referendum next week on the Treaty of Lisbon. From the article from the Irish Times about the poll, these are the crucial lines:
The swing to the No camp has not been prompted by domestic considerations, with just 5 per cent of those opposed to the Treaty saying they are influenced by a desire to protest against the Government.
The reason most often cited by No voters is that they don't know what they are voting for or they don't understand the Treaty, with 30 per cent of No voters listing this as the main reason for their decision.
So, essentially, people are voting no, well, because they just don't know. I suppose the respondents to the survey were honest at least in admitting complete ignorance, but what a reaction! Get a grip folks! OK, you might oppose the EU per se, or dislike the greater foreign affairs powers granted by the Treaty of Lisbon, or you might not want more majority voting. But that would be an informed choice. But to just say 'we don't know'?! Remarkable.
[UPDATE] Just come across this from Jean Quatremer (in French) – the only other blogger I've found who reckons ignorance is a remarkable reason for voting against the Treaty.