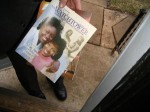 Sometimes it takes you a bit of time to digest the full significance of an event that happened to you. Such was the case this evening on Tremadoc Road, just a few streets away from Aristotle Road where I live in South London. I was trying to distribute the hundreds of Labour Party The Rose leaflets (that the Ferndale Ward party had pleasantly left for me) as quickly as I could, striding purposefully between the terraced houses. On my way out of the gate of one of the houses I was questioned by a very smartly dressed young woman on the pavement sono italiano?. My answer in my very limited Italian was No, non sono italiano. Sono inglese, ma parlo un può l'italiano. I don't know which of us was more shocked – her for having asked a Brit something in Italian and the Brit being capable of replying, or me being so overjoyed that I had managed to string together a sentence in Italian without having even thought twice about it!
Anyway, the woman was still not convinced that I was British and asked again, saying I even looked a bit Italian. Might be true sometimes, but surely not when I have an old rough sweatshirt on while delivering Labour Party leaflets! She then enquired whether I was capable of reading Italian, to which my polite response was, well, I more or less can. She then opened her bag and gave me a small leaflet in Italian… It was at this point that I realised it was something a bit odd as she also had a large bible in the bag. At this stage I explained that I had to go – again in Italian(!) – and I gave the woman a copy of The Rose in return (complete with it's stories about the Lib Dem's failing drugs policies and tax policies in Lambeth) said goodbye, and headed off down the street.
When I've finally got round to looking at what I was given, it's a copy of La Torre Di Guardia – The Watchtower – the publication of the Jehovah's Witnesses! Now, I am not sure that I would have been able to conduct a discussion about God versus atheism in Italian while stood on a street in Clapham, but I'm so happy I managed to conduct an impromptu conversation of any kind in Italian that I don't care too much!