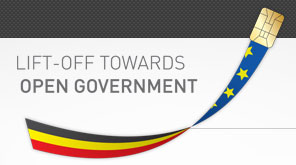 I applied to attend a large tech and politics conference happening today in Brussels entitled Lift Off Towards Open Government, organised by the Belgian Presidency of the Council with support from the European Commission. I applied to attend as a blogger, somehow my attendance was accepted, and I even got a badge classed as 'press'. You can follow the event on Twitter at #lo2og
So what do I make of it?
In short, it's quite horrible.
First of all the event is super grand – it's at Square Brussels, a very swanky and recently renovated conference venue. Despite the grand venue they didn't think to signpost clearly at the entrance, or provide any vegetarian food. This is an international event folks!
The attendees are mainly suit wearing, middle aged businessmen. This is a Blackberry rather than an iPhone audience. I feel nervous in such company – it's not about the process of government, it's not about politics and government, but it's more about the business of government.
Then to the programme. The opening word was given by Herman van Rompuy, President of the European Council. Apart from a cursory remark about Wikileaks, clearly no-one had told him that this was a conference about tech and government as his rambling speech encompassed basically every challenge facing Europe except eGovernment!
Neelie Kroes, the second speaker, was a little better, explaining how the European Commission is committed to open data and WeGovernment, and announcing the Commission's new eGovernment Action Plan. Third came Vincent Van Quickenborne, Belgian IT Minister. He had quite some fire in his belly, making a clear and compelling speech about how IT is changing government and how cloud computing can allow major energy savings.
After a coffee Peter Hinssen livened everything up with an amusing presentation on how we're half way towards digitisation in the developed world. While his speech was rather low on facts that were new to me, the presentation was a useful wake up call for the politicians and businesses present. Work, Hinssen said, is the only place now where a person's technology is lousy – too true!
After that things went rapidly downhill with tedious and/or incomprehensible presentations by Commission officials Robert Madelin, Francisco Garcia Mora and Mechthild Rohen. I know these people are constrained in what they say, but there really is no excuse for monotone delivery and powerpoint slides full of incomprehensible diagrams.
Above all I wonder: why has this event even been organised? Further, in the spirit of openness spoken about by so many speakers here, how much has this event cost – I've dug around but cannot find a figure, but with all the screens and hologram special effects it cannot have been cheap.