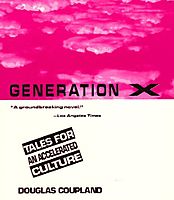 Generation X: Tales for an Accelerated Culture paints a rather bleak picture of a generation that is economically troubled and emotionally taut – essentially the post-Baby Boom generation. The term Generation Y applies to people coming after them – statistically speaking people born after 1978. But that term has not entirely permeated politics as yet – at least in the UK.
Anyway, however definite the term, and lacking a book about members of the generation in the Mojave Desert, I have been asked to publicise two academic surveys about by some Masters Students in Occupational Psychology I know from City University.
Guro Rogstad is looking at Generation Y individuals (born between 1978 – 1989) assessing their well-being at work. She wants to reach full-time workers in London, with nationality and language skills being of no relevance. The survey will take 5 minutes to complete – click here for more information and to take the survey.
Garret O'Moore is looking at idealized leadership, i.e. the type of leader/manager that people would like to have. He is comparing GEN Y employees (born 1978 – 89) with GEN X (1968 – 78) employees to see if there are any significant differences between the type of leadership style that they prefer, and looking at job satisfaction. He's happy for people from across Europe to take the test, but they need a good level of English – click here for more info and to take the survey – it will take 10-15 minutes.
So if you have a free few minutes, please fill in the surveys! Data will be kept anonymous, and will not be passed on to anyone.