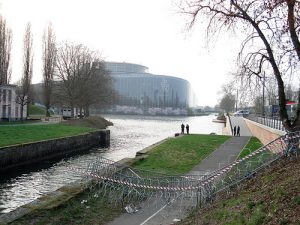 I had to chuckle when, via a Facebook Friend, I came across the Frequently Asked Question on the Campaign for European democracy (aka Strasbourg defenders) website entitled 'Why should the European Parliament in Strasbourg be reinforced?' Perhaps the campaign is unaware that FAQ stands for Frequently Asked Questions and that is surely not something that's especially frequently asked…?
The only argument that's vaguely in favour of sticking with Strasbourg is that decentralisation of the institutions is a good thing, that is shares around the jobs etc. Fair enough, but unlike response 8 in the European democracy FAQ I don't think the European Parliament would be strengthened one little bit by keeping it in Strasbourg. For one of the vital roles of the legislature is to examine on an everyday basis what the executive is up to, and the executive (the Commission) is based in Brussels. The other legislative (and in foreign policy, quasi-executive) branch, the Council, is based in Brussels already, and the Council is never going to do the executive scrutiny properly as civil servants in working groups and ministers turning up sporadically are never going to do that. Now that's not to say the EP is necessarily any better as many of its members are lazy and inept, but it has the potential for proper executive scrutiny that the Council does not.
So if the decentralisation case is to be made, why not send the Council to Strasbourg, and have the EP in Brussels?
If you agree then join the 1.26 million others who have signed at Oneseat.eu!