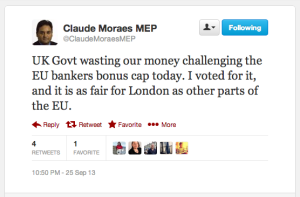 So the UK has lodged a legal challenge with the European Court of Justice (ECJ) on new EU rules on pay in the banking sector, specifically about bankers' bonuses (framed as "Osborne to take EU to court" (see FT for example)). The Gov.uk news story about it is here.
There are for me two issues at stake here: the political, and the legal and procedural. Much of the reaction to the news has completely messed up this distinction.
Take these two tweets for example, from Claude Moraes MEP (Labour) and Daniel Hannan MEP (Tory):
UK Govt wasting our money challenging the EU bankers bonus cap today. I voted for it, and it is as fair for London as other parts of the EU.

— Claude Moraes (@Claude_Moraes) September 25, 2013
Instead of private sector pay, why don't MEPs try to control Eurocrats' remuneration? That's meant to be our job. @Hannes_Swoboda

— Daniel Hannan (@DanielJHannan) September 26, 2013
Moraes, rather than stating that the Tory government is politically wrong to try to overturn the new bankers' bonus rules, instead plays a legal cost argument. For someone like Moraes, the Tories should be politically or ideologically wrong to challenge the bonus cap, but it should procedurally be fine for any government to test the legality of EU law.
Hannan tries another tactic. His tweet sounds like a judgment about what MEPs should be for – that they should be looking at Eurocrats' pay, and not bankers' pay. But this is essentially a political point, dressed up as procedure. Whether you cap bankers' bonuses or not is a matter of political ideology, not a question of what MEPs are for.
We would all be better off if those defending the bonus cap did so on principle, and those opposing it also did so on principle. Then we let the legal process run its course to see whether the proposal as it currently stands is legal or not.