I've just beens sent this link to a website entitled Icelanders are NOT terrorists. The Icelander who informed me is a friend and political contact – Eirikur Bergmann Einarsson – who has been mounting a one man defence of his country in the UK press.
So what do I make of all of this? As The Times speculated, did Gordon Brown need a bit of a boost in the polls by picking on a weak adversary – Iceland for him, as the Falklands were for Thatcher? Using the Anti-terrorism, Crime and Security Act 2001 to secure assets from Icelandic banks that were collapsing was over the top for sure – it does not send the best signals to Iceland, and after all a lot of the UK high street is owned by Icelanders (West Ham Football Club too). So Eirikur and his campaigners probably have a point.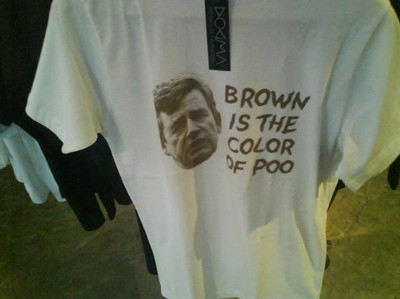 But beyond that, look at the website with all its smiling people… and think. It makes the assumption that you can judge who a terrorist is just by looking at him or her. There are no people sporting long beards or dark skins in the pictures, so, well… It leads you down a dangerous path. I think they would have been much better to put an image of multi-cultural Iceland up on their site.
[UPDATE – 3.10.08]
Apparently it gets nastier… You can get T-shirts in shops in Reykyavik that say 'Brown is the colour of poo' with a pic of Gordon on them – as pictured. Ã…sa Petersen took the photo.