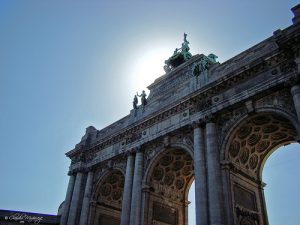 When I'm in Belgium I am a happy resident of St Josse-ten-Noode. It's on the doorstep of the EU institutions and it's Belgium's poorest commune with an average income of only €7079 per year per inhabitant. Lathem-St-Martin is the richest commune in Belgium with an average income of €19820. Both of these stats strike me as extremely low and – I presume – are calculated on the basis of income after tax has been paid.
So today's Eurostat report about the GDP per head of different regions was a surprise – Brussels is the 3rd richest region in the EU, with GDP per head of €59400. It has been reported by EUObserver, and the Eurostat PDF is here. Those are GDP figures rather than income figures, hence the discrepancy, but the interesting point is this: Brussels for sure does not feel like the 3rd richest region of the EU! In fact in many areas the place feels poor and run down, and house prices are low too. Munich or Stockholm feel much more obviously wealthy. Eurostat adds the caveat that figures can be distorted by significant flows of commuters – undoubtedly the case for Brussels where Belgium's enterprises have their HQs that are mainly staffed by workers resident in Flanders.
This – like lots of things in Belgium – just leaves me feeling mighty confused!