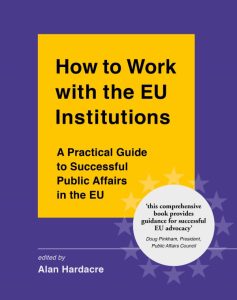 I might have been happily blogging away here for the last fifteen years, and in the meantime racking up enough words to publish a few books, but I have never had the confidence or the sticking power to actually write a book myself.
Now at least I have managed the next best thing – I have written a chapter in the book "How to Work with the EU Institutions: A Practical Guide to Successful Public Affairs in the EU", edited by Alan Hardacre and published by John Harper. My chapter is entitled "Working with the Media and Social Media in the EU" – the topic closely in line with what I teach at the College of Europe in Bruges.
The chapter aims to sum up all of the knowledge about digital and media communication I have gathered over the years – through this blog and through Twitter. It also seeks to assess how the traditional media landscape works in Brussels, and examines the extent to which different communication channels have an impact on the EU policymaking process. It was an interesting process to try to stitch together all these things into a coherent whole, and I am grateful to Alan Hardacre for the suggestion to write this. Now the test will be if what I have produced is actually useful to people!
Detail about the book, and also a link to place an order, are on the publisher's website here. There is also a free online launch event for this publication, and its sister publication "How the EU Institutions Work: Your handbook and guide to EU decision-making" on Tuesday 22nd September at 1300 CET – you can sign up for that here.
And – for the record – I do not receive a single cent for any sale of the book, so I am not posting this for the sake of making personal profit!