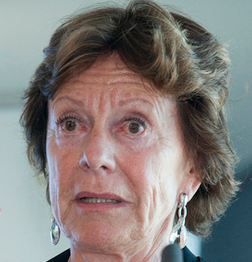 I can just imagine the scene. Neelie Kroes is sat at Düsseldorf Airport waiting for her flight, tries to get online, and turns to Ryan Heath or Jack Schickler or some other member of staff travelling with her, and with that mix of steel and mischievousness in her eye she says something along the lines of "How dare they charge €6 for an hour of wifi? I'm not having that!"
Her experience is the sort of thing regular travellers encounter all the time. It's surely also something that the other Commissioners capable of using a smart phone also have encountered. But unlike the rest of them, Kroes connects her everyday experience with the politics of the matter and actually seeks to do something. It's the same sort of motivation that has driven dozens of blog entries and tweets of mine over the years.
She first tweeted this:
In #Dusseldorf airport: they charge for #WiFi – it is thievery! We pay huge charges to use airports, people expect connectivity in 2014!

— Neelie Kroes (@NeelieKroesEU) March 26, 2014
This has been retweeted 834 times at the time of writing, and covered by The Local and Kölner Stadt-Anzeiger.
She then follows it up with an effort to crowdsource good and bad experience:
Tell me: which airports are the best for free #WiFi ?
(I will recognise them and push the others, especially in #EU , to copy them)

— Neelie Kroes (@NeelieKroesEU) March 28, 2014
Also please tell me the WORST airports for #WiFi access … rip-off prices especially, but also demands for personal data & bad quality.

— Neelie Kroes (@NeelieKroesEU) March 28, 2014
No doubt the next step will be to write a blog entry with a kind of league table of the best and the worst. Of course this is non-legislative, but it is a political issue, and Kroes's understanding of political social media connects all of the pieces together effectively. More Commissioners should follow her example.
[UPDATE 1820]
I've been pointed towards a WSJ Germany blog about the same subject, and there is also now a blog entry on Neelie's blog that summarises the responses, very kindly also linking to this blog entry of mine.