OK, I have to admit it – the IMAP account on my shared hosting cannot cope with the quantity of e-mail I am receiving, and the size of the attachments I get. So it's time to make use of the Gmail account I've had for a while, and use its 7Gb of storage as my main e-mail. But how should I best do that for multiple e-mail addresses, also because I don't actually want to give the Gmail address out to anyone.
A further stipulation is that I want to use Mac Mail on 2 Macs (MacBook on the road, iMac at home) and access the mail on my iPhone too.
Here's how I've done it – I hope the guide proves useful.
1. Go to Settings (top right) in Gmail and click the 'Forwarding and POP/IMAP' setting. Enable checking by IMAP (vital to use this rather than POP)
2. Then go to 'Accounts and Import' and click 'Send mail from another address' – do this for all the addresses from which you want to send messages, in this case 2 addresses I use (a business one and a personal one)
3. Once this is done change these addresses – wherever they may be – to forwarders rather than mailboxes. So perso@persodomain.com and business@businessdomain.com both forward to Gmail. You could accomplish this by using 'Get your mail from other accounts in Gmail using POP3' but this solution is supposed to be for the long term, and as stable as possible, so forwarders are a better bet.
4. Gmail sends a confirmation to each of these addresses – click the confirmation links.
5. Add your Gmail account to Mac Mail – in 'Preferences' in the Mail menu. Make it an IMAP account, and complete the screen this way: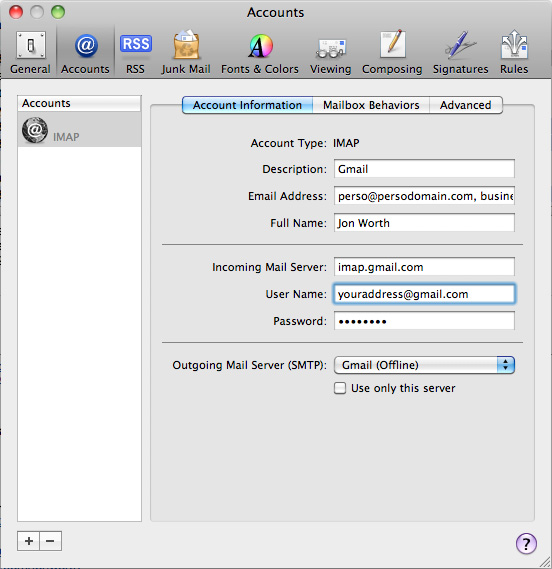 Two things to note: Email address and username are different – in the former you put the addresses you wish to send from, separated by commas (as explained in more depth here), and in the latter you put your regular Gmail username and password.
6. When adding a server to send mail, make this smtp.gmail.com and add user authentication – using your Gmail e-mail and password.
7. Now when you send a mail from Mac Mail you can choose which to send perso@persodomain.com or business@businessdomain.com, and when receiving all messages are received from the Gmail mailbox. All of this also works for free – this is all done using a regular, free Gmail account, not a paid-for Google Apps account.
8. A similar procedure can be performed on the iPhone – choose 'Other' rather than 'Gmail' as the account type when adding an e-mail account, and put perso@persodomain.com or business@businessdomain.com as your e-mail, and use the Gmail details for sending and receiving. Full details to do this can be found here.