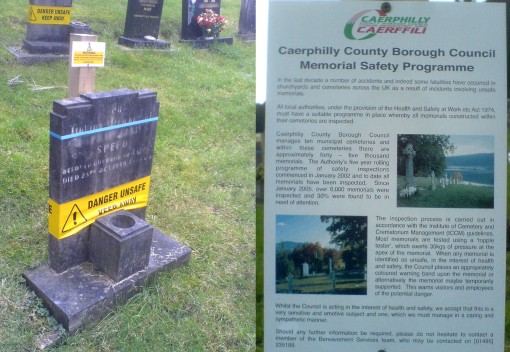 Have a look at the notice pictured above (click image to view it at full size). This pictures are from Danygraig cemetery in Risca. This is Caerphilly unitary authority's approach to dealing with the issue of church headstones falling over – you can read their press statement here. Every gravestone must apparently be able to be subjected to a 35kg pressure at the top, and if not, a series of ugly measures need to be taken – from adding posts behind the stones, to flattening the stones entirely. According to the information notice there have even been some fatalities due to headstones falling over, while similar problems have been encountered in Staffordshire and Nottinghamshire.
I find all of this really ludicrous. Who has possibly died from stones falling over? People messing around pushing stones over? Or employees? And is it really necessary to stick all these notices on all the graves? Surely a notice at the entrance to the cemetery would suffice. Or maybe Caerphilly and other councils could look at stabilising their gravestones in a more pleasant manner. Above all, some of the people I spoke to at Danygraig implied that it was over-zealous implementation of EU Directives that was to blame for this – seems unlikely as the board pictured mentions the Health & Safety at Work Act.
Are we incapable of being sensible about risk in the UK? Surely such measures to stop graves falling over are a ludicrous over-implementation of health and safety rules?