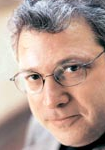 As the days go by after the No vote in the referendum in Ireland on the Treaty of Lisbon so more articles and statements emerge, asking questions about the future direction of the EU. Today David Marquand (in The Guardian) and Robert Kagan (in the IHT) have penned articles asking how Europe can view its role in a globalised world if it cannot even manage to get some basic institutional changes approved. Scarily I find myself quite in agreement with Kagan's article – and he's an adviser to John McCain.
Mark Leonard's think tank, the European Council on Foreign Relations, has also weighed in with a statement about the EU's role in the world, signed so far by 43 heavyweight political figures. Problem is that among the 43 only 3 are women, and the average age of the 43 of them is 59 (DoBs for a few were not available, but you get the idea). So while it might be a think tank with a nice smart logo and young boss, the 'ideas' come from rather traditional sources.
So, however reasonable Kagan's or Marquand's arguments might be, and however much experience ECFR's heavyweights have, what chance is there that any of this comes to pass? That politicians will be bold and brave in their leadership, persuading nervous populations of EU countries that they need not fear the future? I worry it won't happen as these commentators, just like Brian Cowen or José Manuel Barroso, are too much part of a political class that is failing to connect on EU questions presently.