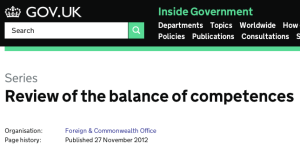 So with rather little fanfare, the UK Government's EU balance of competence review has today published its first six reports (links to PDFs here). The first six reports concern Taxation, Development Cooperation and Humanitarian Aid, Health, Foreign policy, Single market and Animal Health and Welfare and Food Safety.
So what can we learn from these documents?
On first reading (thoroughly of the Exec Summaries, and skimming through the rest), it looks like the reports are broadly sensible. Each has been written on the basis of widespread consultation, and the broad gist of each is that the status quo is OK – that taxation and foreign policy remain matters of national competence, that framework competence for health is OK, and that on development, animal health and the single market the balance of competences is about right, but there are problems with individual pieces of legislation, and with implementation of legislation. Hague's red card idea is mentioned in the Single Market report however. While some outlying views may call for more EU action (on public health for example), and for legislation to be abolished (Working Time Directive), the overall impression that these first six reports give is that things are broadly OK as they are.
So who is going to be convinced? No-one I fear. As Clive Matthews rightly pointed out on LSE's EUROPP blog, the whole process is questionable, and anyone reading the reports is either going to frame the outcomes according to their own views, or undermine the process itself (which is exactly what has been happening on Twitter this afternoon – see @RetiringViolet and @BrunoBrussels for example – these were consultations, but hell, why worry about that?).
So while the 6 reports so far do not make my blood boil, they are a pretty tedious and extremely expensive exercise in confirmation bias.
[UPDATE 16:40]
Glad to see that Douglas Carswell has proven my point both swiftly and really emphatically:
[UPDATE 17:33]
@RetiringViolet dislikes my wording above that she's undermining the process, stating that "in some areas has capacity to be v. useful"