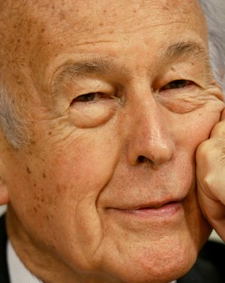 Former French President Valéry Giscard d'Estaing has spoken out about the UK's relationship with the EU, and has said that Britain should simply not participate in some policy areas if doing so would be to the detriment of further EU integration. Should be music to David Cameron's ears because I presume his wish to withdraw from the EU's Social Chapter would not entail demanding the rest of the EU tears it up too.
But where Giscard really touches a nerve for me is when he speaks about the tactics used by British diplomats (and by extension civil servants) when it comes to the EU, essentially efforts to find administrative reasons to oppose advances in policy. Examples that spring to mind are the UK's opposition to an EU energy market regulator, the determination that the European Institute of Technology should be limited in scope, and that any EU diplomatic corps should be firmly controlled by Member States and not the Commission.
Yet while it might be possible to argue that the UK is the most administratively conservative of the EU's Member States (i.e. it always thinks Westminster mandarins know better than Brussels fonctionnaires), where Giscard's line falls down is when it comes to the behaviour of the other Member States. What Member States are there today that want to move forward in any major policy area and are blocked by the UK? While I can point to some policy areas where the outcome was more minimalist due to the UK I can't think of one issue recently where a whole policy failed to develop as a result of the UK.
Essentially Britain's administrative and political approach to the EU aims for the most minimal outcome every time – why can Britain never determine what it wants the EU to actually do, rather that trying to water down what the EU could do? But the idea that Britain is keeping the lid on a great outpouring of integration is ridiculous.