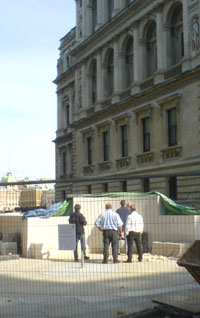 I was walking along Horse Guards Parade beside St James's Park in London today and happened to notice some men chipping away at a new stone wall (pictured). It turns out that this is the construction of a memorial for the 202 victims of the 2002 Bali bombs, 28 of them Brits. The news story from the BBC about it is here.
Two things strike me as somewhat odd here. First of all, the memorial is at the corner of a major wall that has been erected around the Foreign Office building to (I presume) prevent a terrorist driving a car full of explosives into the building. Is this intentional? A memorial to deaths from terrorism at the end of anti-bomb wall? Unsurprisingly, the BBC article neglects to mention this!
Secondly, I am a bit worried if we are getting carried away with erecting memorials for things. While I have no doubt that those killed in Bali were very dear to their loved ones, are they any more dear than those killed in car accidents, by AIDS, train crashes or whatever else? London also now has a monument remembering the suffering of animals in war (more here) on Park Lane – is that really necessary? We seem very capable of making public expressions of grief cast in stone, but what about something more positive? A large stone to commemorate the foundation of the National Health Service maybe? Or the foundation of the European Union?