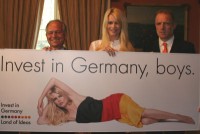 I was quite startled to read (EUObserver article) that the German Embassy in the UK has commissioned model Claudia Schiffer to dress up in a German flag and pose seductively on a billboard advertising campaign under the slogan 'Invest in Germany, boys' – details from the embassy's website here.
Now, Germany has quite a lousy record when it comes to women's rights in the labour market. Labour market participation of women is at the lower end of the scale among the old EU-15. The paper 'Is There A Glass Ceiling Over Europe?' from Essex University [PDF download] ranks Germany as the 4th worst country of the EU-15 in terms of gender pay gap. This article from OECD Observer takes the theme further, arguing that gender matters are essential to economic growth – and Germany is not in the group that is commended in the first diagramme. So what is the German Embassy in London doing, pandering strongly to gender stereotypes? I somehow doubt that the Norwegian or Swedish embassies would use similar images (and slogans) to encourage investment.
On the other hand, the poster campaign is intended to be displayed in Bank underground station in London, at the heart of the City of London's banking and finance sector, a sector that has not been known for a positive approach to gender balance. So repulsive though the Embassy's approach may be, this is surely a case of appealing to a rich market with a tendency towards chauvinism?