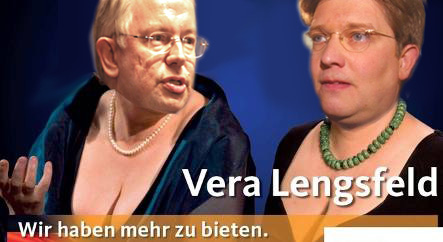 Gender framing has reared up in the German general election campaign as reported by The Local. Berlin Candidate for the Christian Democrats Vera Lengsfeld has put up pictures of herself and Angela Merkel both boasting considerable cleavages with the slogan "Wir haben mehr zu bieten" – "We have more to offer". What the hell is this? Is Lengsfeld incapable of actually putting together some policy statements for her posters? And this is in Germany as well, a country beset by a big gender pay gap, very low birth rates, and poor rights to maternity pay.
So I've countered with the mockup above, using pictures of Roland Koch and Eckhart von Klaeden instead. Can you imagine a German male (CDU) politician posing for an election poster with a naked torso on a beach or something? I think not, and judging by the waistlines of some of them, it would surely be a gruesome sight.
This is all similar in style to Caroline Flint posing in a red dress in the UK, a decision dissected by Mary Honeyball, following on from the Blears-Harman handbag fight. Why oh why do we so easily slip into these gender frames and why, all too often, is it women politicians themselves that are not conscious of what they are doing?