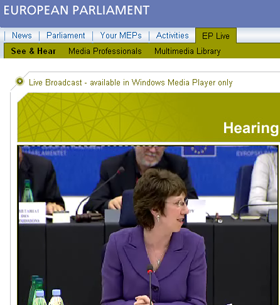 So you want to watch the Baroness Ashton hearing in the EP? Good luck! Well, if you have any sort of non-standard computer that is. I could not manage to make the streaming work on Firefox or Safari on a Mac (both cut out continually), or even with Firefox or Google Chrome on Windows (running through Parallels).
The only solution? Internet Explorer 6 with Windows Media Player in Windows – precisely the case that caused all the problems in the Microsoft-EU anti-trust case! Rather ironic.
As for the hearing itself: Ashton has been speaking in a slow monotone so far. Really dull. Robert Sturdy asked the first question, which was incoherent and dull too. So no sparks flying yet.