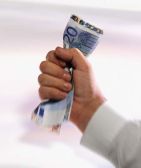 The European Commission is going to have to face a staff cut – or so it seems after EU Finance Ministers have suggested that 1700 staff that retire between 2007 and 2013 should not be replaced. A good summary can be found at EUObserver here. So what do we make of all of that? Trying to justify the cuts, Ed Balls (filling in for Gordon Brown at the Council) stated: "You have to take tough decisions where there is waste", reported in The Telegraph. Yes, that's true, but just hold on a minute.
First, the European Commission is small. Very small. It has about 22000 staff – miniscule when compared to UK departments like Department for Work and Pensions that employs 80000 alone.
Second, the European Union has recently enlarged from 15 Member States to 25, and will soon be 27 – surely the Commission should be able to cope with this?
Third, the criticism is that the European Commission is inefficient. This is sometimes justified, but cutting staff is not going to help. A more meritocratic system of recruitment and promotion would be the best bet. Further, by just not replacing staff that are retiring there are going to be very few new people in the Commission with new ideas to improve its efficiency.
Lastly, and worst of all, having a go at the European Commission is highly hypocritical. The Council and the European Parliament have had a gentlemen's agreement on staff costs for the last decade or so, allowing the staffing budgets to rise steeply for those institutions (using enlargement as the justification). During the time I worked in the EP, Budgets committee were looking at 7-9% annual rises for Parliament and Council, and around 2% for the Commission. So while it might be good for the headlines to have a go at the Commission, EP and Council should not be immune to these problems.
In short, it strikes me that the Commission has every right to be annoyed.