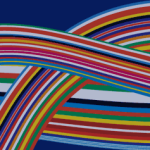 So you think federalism is a good principle on which to base the European Union? Or you have some wider, more fluffy notion of European unity? What do you do?
My route, and I'm happy to describe myself as a federalist, was to join the Young European Federalists and work with other actors in the political process to push for greater democratic accountability of the European Union. For me federalism is compatible with the other things I believe in – social democratic and liberal values. Federalism is a fine principle to answer structural issues for a governmental system, but it won't tell you whether, for example, a government should tax its citizens more or less. My views are consistent on this point with Altiero Spinelli, founder of the Italian federalist movement who wrote this in the Ventotene Manifesto in 1941:
"The dividing line between progressive and reactionary parties no longer coincides with the formal lines of more or less democracy, or the pursuit of more or less socialism, but the division falls along a very new and substantial line: those who conceive the essential purpose and goal of struggle as being the ancient one, the conquest of national political power, and who, albeit involuntarily, play into the hands of reactionary forces, letting the incandescent lava of popular passions set in the old moulds, and thus allowing old absurdities to arise once again, and those who see the main purpose as the creation of a solid international State, who will direct popular forces towards this goal, and who, even if they were to win national power, would use it first and foremost as an instrument for achieving international unity."
But then along has come the internet, and lessening of the influence of the traditional political parties. So why not make your own political movement, and base it on the quest for political unity in Europe? Apart from it being questionable whether anyone would vote for this, do such movements actually have answers to everyday problems, or do they simply muddle the issues of governance and politics?
The newest one of these movements (and the reason I wrote this post – they e-mailed me) is called We Change Europe that seems to want more direct democracy as its answer. Their website is reasonably slick at least. Newropeans is the most established of these small organisations and they are trying to put up candidates for the 2009 EP elections. Europe United is trying to do something similar.
I should be a person to whom these movements should appeal – making EU unity an electoral issue. But I am really not convinced. Why should I join or vote for these people? I have more sympathy for even the most radical people in the federalist movement than I do for these folks pushing for political power and, I suspect, not really getting very close to it.