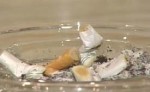 After months of nasty wrangling, it looks like the UK will finally get a full ban on smoking in all public places. The government has decided that MPs will be give a free vote on any proposals that go further than the previous botched compromise proposals that had advocated allowing some smoking in pubs that do not serve food. The argument at the time was that Blair thought an outright ban on smoking in public places was too much of a restriction on civil liberties.

Now, I don't recall Blair being much of a defender of civil liberties normally, and I actually think the government has misjudged public opinion on this one. Seems to me there have been few calls of 'nanny state' from the newspapers. Further, the UK has a lower percentage of smokers in its population than a lot of European countries, and if Ireland or Norway can manage bans, then surely the UK can? Then came the attitional pressure from Wales, Scotland and Northern Ireland and the tide seemed unstoppable.
Accuse me of cynicism, but there must be a substantial element of realism in this decision to give a free vote. It will keep grumpy MPs content, the population is probably in favour anyway, and it will give Blair some political capital to fight the really tough issues to come this year. Seems such a shame that a major public health issue like this could be decided in such a messed up manner, rather than receiving the major positive publicity it deserves.