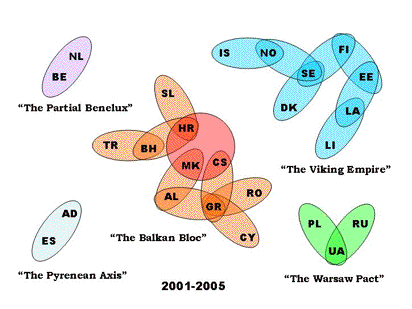 Europe Day is past, so now it's time to focus on that other great European (but non-EU) event – the Eurovision Song Contest. Iain Dale started to get me thinking about this. The contest is essentially unfair. A few thousand people favouring one song in Andorra give that act as many points as many tens of thousands in a larger country. So the real question would be this: who would win if all European citizens were equal and a country's vote was proportional to its population, or at least the number of people calling in? Time for some debate about voting systems I reckon. STV anyone?
Maybe the British might do better that way as well… Before Scooch even step on the stage on Saturday they frankly have not got a chance according to the research conducted by the University of Surrey. The UK does not even feature on their major Eurovision axes – see the image above.
UPDATE – 11.05.07
Trust me, I had not seen the results of the Eurovision qualifying round before I wrote this post. It turns out that the Balkan axis managed to really stitch things up last night. See this from the BBC. Here are the bands that qualified:
Belarus – Koldun
Macedonia – Karolina
Slovenia – Alenka Gotar
Hungary – Magdi Ruzsa
Georgia – Sopho
Latvia – Bonaparti.lv
Serbia – Marija Serifovic
Bulgaria – Elitsa Todorova & Stoyan Yankoulov
Turkey – Kenan Dogulu
Moldova – Natalia Barbu
Looks like those Surrey academics really know what they are on about!
UPDATE 2 – 15.05.07
4 MPs have jumped on the 'fairer Eurovision' banwaggon by calling for the UK to withdraw from the contest unless voting reform is implemented. See this from the BBC. Sounds like a typical UK eurosceptic tactic – threaten non-cooperation rather than positive engagement. Oh, and maybe not having annoyed the rest of Europe by invading Iraq would have helped a bit too. Or we could split up the UK… Have a look at this excellent piss take from Political Penguin.