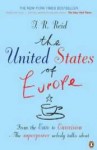 I have just finished reading an extremely pleasant and gratifying book: T. R. Reid???s ???United States of Europe??? (buy it from Amazon here). Reid was the Washington Post???s correspondent in London from 1998 until 2002 and his book details how he sees the process of European integration. The book is an easy read, and brings in a multitude of examples and personal anecdotes that paint a very positive picture of the development of the EU.
From Jack Welch???s spat with Mario Monti, to European influence on American business and standards of industrial products, Reid really shows how much the European Union and its member states should rightly be proud of what has been achieved in 50 years of integration. This look at the EU from the outside is really heartening, and you gain the feeling that Reid???s inherent scepticism at the start of his time in Europe was transformed thanks to keeping an open mind and trying to make the most of his experiences.
There are some inaccuracies in the book ??? the part about law and human rights is especially full of errors ??? but take it with a pinch of salt, use the positive examples, and think positive the next time the EU???s leaders are all wrangling over a budget. It???s all worth it. Really!