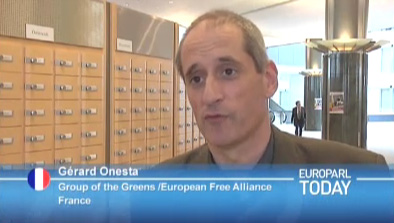 I've been having a look at Europarl TV, launched yesterday with a bit of fanfare in Brussels. I was not at the launch so I didn't profit from a few glasses of wine to temper my views on the project. I instead watched a bit of the news show this morning and while the technology is smooth enough the content of the first item on the 'news' was so skewed it was untrue. It was a piece about what to do about the roof of the EP in Strasbourg having fallen in (for more on that see this post), and as a consequence whether the EP should be just based in Brussels.
The only MEPs featured in the report were French – Gérard Onesta (Greens) at least mentioned the environmental impact of running 2 buildings, but Joseph Daul (EPP) basically declined to acknowledge there was any problem with Strasbourg, and even had a go at the quality of the Brussels hemicycle. Daul is, you guessed it, from Alsace… Where were the MEPs opposed to Strasbourg?
The Europarl TV editorial charter states "The channel shall ensure that the plurality of opinion in the European Parliament is reflected, with due respect to the relative strengths of the political groups, in accordance with a neutral, non-partisan editorial policy." Really? Seems they are off to a bad start.