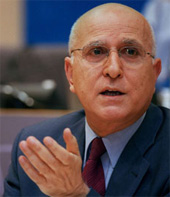 According to the Today Programme on BBC Radio 4 this morning Stavros Dimas is the "EU's Environment Chief". Well, sort of. He's actually European Commissioner for the Environment. Now would the same programme dream of calling John Hutton "Britain's Industry Chief" or Hillary Benn "Britain's Environment Chief". No, of course not – they would be referred to by their correct government minister titles.
There are other examples – calling MEPs "Euro MPs" – which is ambiguous as it can imply these are Members of Parliament in Westminster who care about Europe. Discussion about Blair and whether he wants the job as President of the European Council is referred to as "the first standing President of the EU". The Convention on the Future of Europe was often said to be drawing up a "charter" for Europe, rather than a constitution or a treaty – both of which would be more correct terms.
Of course it's possible to see what's going on here – an effort to make European politics understandable to the masses. I do wonder however whether some of the terms give the wrong impression. Of course there is a problem on the EU side too – why are Commissioners called Commissioners, rather than Ministers? Why not call the Council of the EU the European Senate instead? Maybe terms like "EU's Environment Chief" sound less scary?