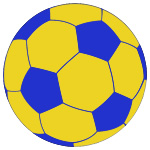 Europe's politicians are winding down for the summer, and plenty of them are watching parts of Euro 2008… and starting to wonder. Janez JanÅ¡a, Prime Minister of Slovenia and present President of the European Council, floats the idea of an EU football team in yesterday's Independent. I'm not sure that's going to solve the EU's problems, but it would have the potential to be a fabulous team. The EU has form in this regard – a football match was organised in 2007 to celebrate 50 years of the Treaty of Rome.
Also noteworthy at last night's Turkey-Germany match was a particular line-up in the stands. Turkish President Abdullah Gül just 1 seat apart from Angela Merkel, with UEFA President Michel Platini sat in between them. I wonder whether Merkel, rather sceptical about eventual Turkish membership of the EU, is even in favour of Turkey playing in Euro 2008? Turkish coach Fatih Terim helps her case, saying about his plans after the tournament: "I had declared earlier I would not be working in Turkey. I am a man who keeps my promises. So I will most probably go back to a European country."
I do however wonder whether Merkel managed to get any tips from Platini about how a national team should organise its defense. Bastian Schweinsteiger has already listened to Merkel's tips but for the final I reckon she needs to reassure Christoph Metzelder and Per Mertesacker that they can cope with Fernando Torres or Andrei Arshavin. But then again Merkel does have to cope with Roland Koch in her own party.