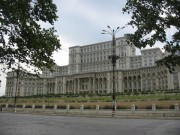 It looks like Romania and Bulgaria are still not going to get a final yes or no to 2007 accession to the EU in the Commission report due to be released today – see this from EUObserver. There are apparently enduring concerns that need to be addressed, so both countries will get conditional yes answers for 2007. The main concern has been enduring corruption in Bulgaria, with a number of lesser concerns about Romania.
However when casting an eye over Transparency International's 2005 corruption index Bulgaria is in 55th place on the scale, and Poland is in 70th position! Further, the European Commissioner who – when reading between the lines of the EUObserver article – seems to be most opposed to agreeing a 2007 date is Franco Frattini whose home country is that well known honest state, Italy, where it took 43 years to find a Mafia boss.
The EU should just draw a line under all of this and let Bulgaria and Romania into the EU in 2007, and then start the tough but necessary work to clean up corruption in the EU and especially within member states. Further, if the French and Dutch had not voted no to the European Constitution, I would very much doubt Romania and Bulgaria would be in the present predicament. So, EU, get your act together and let's agree the accession!