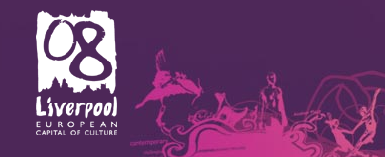 Tonight is the launch of Liverpool 2008 – European Capital of Culture (Wikipedia page). But how much is the EU actually involved in the European Capitals of Culture? The picture is at best extremely opaque. Let's get a few things straight. The idea of capitals of culture dates from a Council decision in 1985, and the EU is involved in setting the rotation of countries where the Capital of Culture will be located – and this includes Norway and Turkey (and, eventually I presume Croatia, Macedonia?) The countries themselves, as far as I can determine, work out which city they themselves are going to nominate – so DCMS went for Liverpool.
But then what happens? The EU awards €1.5 million to each Capital of Culture up until 2009, but if you look at the websites of Liverpool 08 and Stavanger 08 (the other city nominated this year) there is basically no mention of the EU. The Liverpool site lists the ERDF as a funding partner but does not make any mention of the €1.5 million support direct from the EU budget. For Stavanger it's even stranger – this PDF on their website states:
The budget for Stavanger2008 is 300m Norwegian Kroners (approximately 39 m Euros). It is one third funded by Stavanger, Sandnes and Rogaland Kommunes and a further third by the Norwegian government. The rest is to be found from commercial incomes – the government funding is dependent on Stavanger2008 reaching its commercial income goals. There is also the probability of funding from the European Union, dependent on a successful specific project application. [my emphasis]
So is it actually possible to be European Capital of Culture and get no money from the EU budget?
I must admit I am utterly perplexed by the whole thing. Here are cities organising plenty of very visible (and costly) events, many of which are surely popular with citizens. The EU is in some way financing some of it, and the whole project would not exist without the EU. But a clear indication of the EU's involvement is nowhere to be found, and citizens cannot possibly follow what's going on.
DG Education and Culture would do well to follow the example of their colleagues over at DG TREN. Trans European Network transport projects get a miniscule amount of the total cash needed for the construction from the EU budget, but EU flags and signs informing people of co-funding are always prominent (see this Irish example). If Capitals of Culture are, in themselves, a success, then why does the EU not have its communications right for the scheme as a whole and at least stick an EU flag on the websites of the capitals?