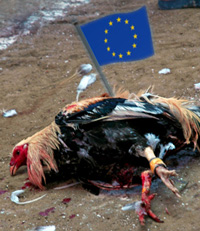 Daniel Hannan was expelled from the EPP-ED group in the European Parliament last night. It's not known how decisive the vote was as the numbers are not stated in the EPP-ED's press release. Reading between the lines I imagine it was all the MEPs of the EPP-ED in a group meeting in Strasbourg voting with a show of hands. I wonder whether all the UK Conservative MEPs were present for the vote and which way they all voted? Or maybe some had wisdom tooth problems, John Major style, to avoid having to express support for their 'colleague'. For most MEPs being kicked out of a political group would mean they would have no political responsibility in the EP's internal workings (reports, opinions etc.) but as Hannan doesn't give a damn about legislation or behaving responsibly then that won't matter to him. He'll carry on sowing the seeds of division and generally destructive.
Better news is that the EP today adopted the Lisbon Treaty by a majority of 525 to 115, with only Eurosceptics and the far-left opposing it (as far as I can deduce from the EP's press release). Some of the eurosceptics apparently turned out in chicken outfits, complaining that the European Parliament was too chicken to call for referendums on the Treaty. Some irony that, as I'm sure if the EP did dare to tell Member States that they should hold referendums then the eurosceptics would be the first to cry fowl [sic] that this should be a national matter.
[Update, 21.02.08]
Eat this Hannan and co. -Â  almost a quarter of the Tory MEPs in the EP did not vote against the Treaty. So much for the Tories being united in their euroscepticism.