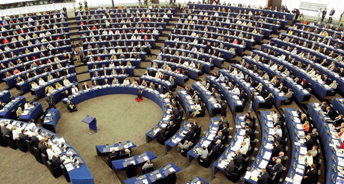 The UK Green MEPs in the European Parliament have commissioned a report showing how much CO2 the monthly travelling circus to Strasbourg produces – 20000 tonnes to be precise, as much as flying 13000 people across the Atlantic and back. See The Independent, and Jonathan Newton's blog. I'm actually quite surprised that this figure is not higher, perhaps due to the EP buildings in Strasbourg being powered by French nuclear electricity. MEPs could also from September make more use of the fast (nuclear powered) train from Paris to reduce the emissions a bit.
Anyway, this report adds just a little more weight to the arguments about Strasbourg – that it's a waste of money (200 million Euro per annum), a waste of employees' time, and that it makes the European Parliament ineffective. In my experience, if there's one thing people know about the EP it's that it's a travelling circus. The MEPs themselves could do more to stop the Strasbourg trek – www.oneseat.eu remains the only serious initiative to date. MEPs set their own rules of procedure for example – why not reduce the hours more and more in Strasbourg so as to make the whole time there even more silly and hence apply more pressure on the Heads of State?
When it comes to the Heads of State it's too simplistic to blame France all the time. The other 26 Member States are complicit in this. They do not actually want the European Parliament to be more effective – it would make their job in the Council harder. 200 million Euro is a low price to pay. So while it's fine to blame the French veto, the reality is that no Member State actually wants to force this issue… Cecilia Malmstrom, the person who set up OneSeat, is now Europe Minister in Sweden. Any hope that things change during Sweden's 2009 EU Presidency? Let's hope so, but frankly I doubt it.