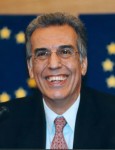 European Ombudsman Nikiforos Diamondouros yesterday delivered his report about complaints to the EU in 2005. The press release from his office about it can be found here, plus additional reporting from EUObserver and MaltaMedia.
Best of all was his quote about the overall structure of the EU institutions' administration:

The commission was established on the French model of public administration and has all the difficulties and all the advantages of this model

For anyone who took the ludicrous concours (see my post about it here) to enter the EU institutions, that really strikes a chord! Further, 12% of complaints from citizens were against the European Personnel Selection Office (EPSO), meaning it ranked second behind the Commission – it received more complaints than either Parliament or Council!