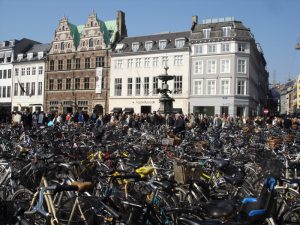 So it turns out that this has been a significant week for me personally. Only three days after I took the decision to cease the pursuit of selection to become a MEP, a further decision taken by someone I don't know and I've never met has had further important implications. My partner's efforts to get employment here and hence stay in London beyond August this year have not succeeded, and so she will be returning to Copenhagen this summer, and that means I will be going there too. Theoretically something could crop up which changes the plan, but that's highly unlikely. From September I'll be living in Vesterbro.
So what am I going to be doing there? Essentially the same sort of stuff I do just now – social media and web communications training, and communications consultancy. I'm my own boss, my work is flexible, so I can base myself anywhere. I've done some work in Denmark in the last 12 months anyway, I know some folks just across the Øresund, and I could theoretically do some work in Stockholm. There's also a daily ICE train from Copenhagen to Berlin. I'll have to cut back my UK and Brussels work a bit, just due to the practicalities of travel.
I am of course going to have to learn Danish, a process that fills me with dread. I know I will eventually succeed, but the process of learning Italian and Swedish in the past as an adult has been neither fun nor especially successful. Friends assume that because I can speak languages I enjoy the learning process – sadly not so. I enjoy communicating, not the process of slogging away learning rules and vocab. Døde røde rødøjede rådne røgede ørreder med fløde… Plus to get to the level I need to be able to work in Danish is going to be a long and tedious slog.
There are advantages of course – Copenhagen is a charming, beautiful and cycle-friendly city, and it's much more relaxed and somehow normal than London. It's not going to frustrate me in an everyday basis in the way London does. I'm looking forward to understanding what makes Copenhagen tick, and to do new things and meet new people. And of course the main reason for going is because of the person I am going to be living with, and that matters more than any of the other things.
Fingers crossed all of this works!