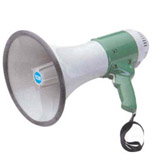 OK, so am I writing it off before it has even started? Sorry, but I just cannot see how the European Union's Communication Policy, laid out today in Margot Wallström's White Paper [PDF] can possibly work. The issue is simple. When a poltical body tries to communicate what it does, and does not give citizens a visible way to control what it does, the communications policy looks like propaganda. Hence it is vital that citizens are seen to have control. The White Paper is accompanied by a consultation process Рwebsite here Рlaunched today by Wallström whose effort and determination for the whole thing is welcome.
Let me put it in simplest terms. When do politicians have to communicate? When they need to win elections. When do citizens have the power to get rid of things they don't like or support things they do? At elections. When in the European Union does this happen? Never.
OK, the European Parliament is elected. But can anyone tell me how electing the Party of European Socialists or the European People's Party in the EP ever actually changed the direction of the European Commission or the EU as a whole? Only when that happens will the European Union have something that can really be explained to the people, as the people will themselves be in control. It's generally called federal government, so of course the Commission could not be brave and propose that in the White Paper, and Margot Wallström can in no way be held responsible for that. What we have instead is a list of worthy suggestions to change matters at the margins. These might improve matters a bit, but there is no hope this is going to overcome the EU's communications problem.