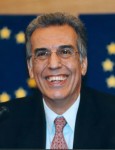 I must admit that I have been astounded by the amount of people that have found this blog thanks to searches for matters relating to the European Commission concours. My original post about the issue has – by 25th September – amassed no fewer than 47 comments! It seems that there is quite a market for Concours related advice… But as I am a kind soul, I'll do what I can to help provide assistance here for free.
So, what do you do if you want to pass? Firstly, have a look at the discussion in original post – there are plenty of tips. EU trivial pursuit might not be everyone's cup of tea, but it might help. You can also try naming the person pictured here, and say what his roles and powers are – you are going to need to know things like this!
Secondly, be prepared to spend many hours with your books learning, and do this as long in advance as you can. The main books are the Ultimate EU Test Book [Amazon], 250 MCQ on Europe and European Policy [Libeurop] and Verbal and numerical reasoning mcq for the european institutions' competitions [Libeurop]. There's also Qcm institutions de l'union européenne [Libeurop] but I haven't tried that one.
Thirdly, if you have the money, go on a course – have a look at these from CEES in Strasbourg.
Fourth, work very, very hard. Never question what you are doing, or the merit of knowing who won the Sakharov prize in whatever year or the percentage of CAP funds that go to sugar farmers. Just learn. Ask no questions. You are – after all – going to become a fonctionnaire if you manage to pass the exams, and we wouldn't want them to think too much, would we.
If you're happy with all of that, feel free to add your comments and questions here!