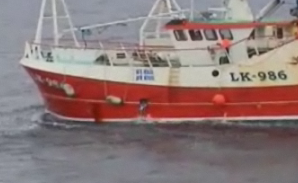 Norwegian Minister of Fisheries and Coastal Affairs Helga Pedersen has got in a flap about the film of a British registered trawler throwing 80% of its catch overboard after leaving Norwegian waters and entering British waters – see the video and read the news story from The Guardian.
The article states that Pedersen will "press for review of the EU fishing policy and wanted to ban any boat discarding fish that were caught in Norwegian waters". Now how you manage to prove that is beyond me, but it's also beyond me to believe that a Norwegian Minister could be so naïve to assume that the EU would in any way listen.
The EU's fisheries policy is undoubtedly a mess (depite some tentative reform efforts), but the livelihood of fishermen in EU countries always seems to trump any environmental concerns at the annual round of quota negotiations. There's no effort to put together a cohesive policy.
But while the concerns that Helga Pedersen raises are undoubtedly valid, the EU is not going to listen to a shrill country that is not a Member State. She would be better to argue that the Norway should join the EU and the condition for its membership should be a wholescale reform of the Common Fisheries Policy.