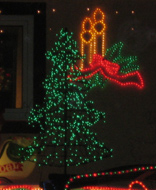 Christmas is fast approaching and – as usual – that means heading home to the town of my upbringing, Newport in South Wales. The place is famous as the hometown of Goldie Lookin' Chain and has an interesting transporter bridge, one of very few examples in the world.
Christmas in South Wales does however seem to have been massively influenced by a globalisation – a massive influx of horrible and nasty Christmas lights mostly produced in China adorning many houses to an extent simply not seen in London (or indeed most of Europe quite probably!) – in some places the houses in the street openly try to compete in terms of sheer naff-ness.
[Updated – 23.12.2005]
My guess about the Christmas lights from China has today been substantiated by none other than Eurostat! 97% of the Christmas lights purchased in Europe are imported from China. See this article from EUBusiness.
For the pictures:
Anyway, enjoy the pictures, and as you can imagine, I'll look forward to escaping to London again on 27th, and then on to Sweden on 30th December…