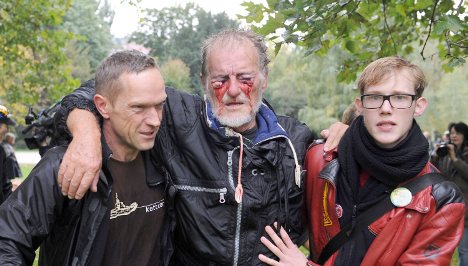 David Cameron has announced that there are plans to be able to deploy water cannon 'within 24 hours' according to The Guardian. Why the time frame I wonder? They are going to ship in some water cannon trucks from Belgium or Germany?
Whichever way, the use of water cannon is a bad idea. The picture shown is from Stuttgart21 protests in Germany where a protestor was hit in the face and may stay blind for life. With trust in the Met low after the original shooting incident in Tottenham, do we really trust them with water cannon?
Theresa May who, dare I say it, sounds more measured than any other Tory throughout all of this, has however said that the police see no need for it at the moment.
Cameron's line on water cannon seems to be the next round of ever tougher vocabulary from him – earlier he said "we needed a fightback and a fightback is under way". So, faced with a violent mob, the state is to fight them? Surely that is no way to calm a situation.
Cameron's approach seems to be a long way away from the dignity and statesmanship shown by Jens Stoltenberg a few weeks ago after the Oslo and Utøya attacks. I'm not at all impressed by Cameron's approach.