NOTE: Speech has now been postponed. Will not be 18th January. New date tbc. All entries below remain valid for take 2 of the speech.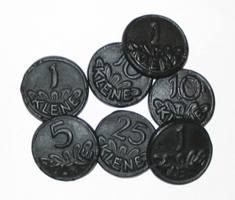 So Twitter (#TheSpeech) and the newspapers are full of analysis and gossip about David Cameron's big EU speech, now to be given on Friday 18th January in Amsterdam (as far as anyone is aware – follow the Storify for the latest news). The speech is due to start at 9am GMT, 10am CET.
Anyway, to have a bit of fun at Cameron's expense, we will play Bullshit Bingo during the speech (it's based on Barroso Bullshit Bingo, only with less alliteration).
Importantly, at my own expense and to give this a strong competitive element, there will be a prize. I happen to be in Netherlands just now (the speech is to be delivered in Amsterdam), and as the speech is going to leave a bitter taste in everyone's mouth, the prize will be a selection of the most bitter, salty Dutch liquorice that I can find. I might even be able to get some liquorice Euros, as shown… I'll post the prize to the winner.
Here's how it works.
1) Think of the 10 phrases you think David Cameron will say in the speech. Politicians' names, and political institutions are not allowed.
2) Tweet your list or, better still, post your list as a comment on this blog entry – before the speech starts.
3) Listen out for the phrases as Cameron says them.
4) I'll then total up the scores, and we will have a winner!
Veel succes!