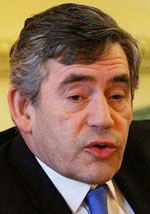 So Gordon Brown boycotted the EU-Africa summit in Lisbon because Robert Mugabe was there. Yes, he's gruesome and evil (Mugabe I mean), but a whole host of other African leaders were there too – it wasn't an EU-Zimbabwe summit after all. Plus Angela Merkel has been very critical of Mugabe from the summit. I wonder what Brown hopes to have achieved with all of this – his stance looks quite petty and hypocritical, especially as the UK government had the king of Saudi Arabia in the UK for a state visit this autumn – and I'm not sure you can argue their human rights situation is any worse than Zimbabwe.
But anyway, that's done, Brown did not go. Now for the second challenge in a week – does Brown go to Lisbon this Thursday to sign the text of the EU Reform Treaty? Apparently there's a diary clash – he's supposed to be at the Liaison Committee in the House of Commons on Thursday. Now, I'm sure that meeting the chairs of 30 select committees in Westminster is important, and we would not want the PM to show any contempt for Parliament, would we. But can he be serious? Plus can any other EU leaders take Brown seriously in the future if he does not bother to turn up? The treaty is going to go ahead anyway, whether Brown attends this week or not. Anyone who is remotely in favour of Britain having decent relationships with other EU countries (ignore the content of the Reform Treaty) should be aghast if he does not attend – 2 no-shows in a week will be completely unacceptable.
[UPDATE 12.12.07]
Seems that the compromise is for Brown to arrive late and sign the Treaty on his own. Nothing like Britain being at the heart of Europe on this one then.