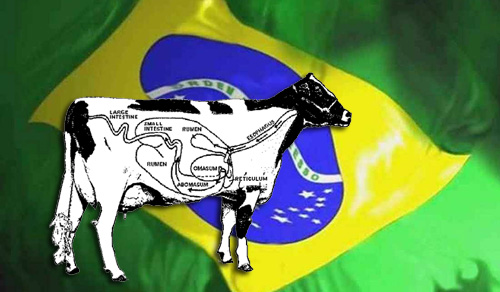 Switzerland faces a shortage of Cervelat sausages for Euro 2008 and who is to blame? The EU! Despite Switzerland not being a member state!! For a European football tournament!!! The fans must have their sausages… So what's going on? "Although Switzerland is not a member of the European Union, it does accept import rules handed down by Brussels" is what the BBC article states. But it's a bit more complex than that, and the BBC's journalist does not seem to have grasped all of it.
For some bizarre reason this Swiss 'delicacy' has been made for the last 20 years using the intestines of Brazilian cows (these have the right Durchmesser (diameter) according to the Schweizer Fleisch-Fachverband) – so this traditional sausage is not exactly the pure product of a green Alpine valley. Due to fears of BSE the EU has put an import ban on the intestines since April 2006, and Switzerland and the EU have harmonised food law (good NZZ article in German here). Why is the EU paranoid about BSE? Well that would be due to the problems in the 1990s in British beef…
So what options have the Swiss got? Well, they could just import the intestines once more – they cannot be fined by the ECJ for non-implementation of EC law. Switzerland does not give a damn about annoying the EU over corporate taxes, so why care about sausages? Switzerland could join the EU and have a seat at the negotiating table, meaning they could have negotiated an exemption for intestines used for Cervelat sausages (see this page from NEBS for the arguments, in German). Or – probably easier – they could source the intestines from somewhere else.
So while this one is a bit less clear cut than yesterday's numberplates story, there is nevertheless a lot more too it than is reported. Perhaps the European Commission office in London should have a daily mythbuster service on it's website? Currently there's no mention of sausages, but numberplates do get a few lines.