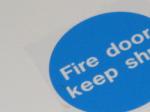 There are some things that strike you as just plain odd in the UK. Have no fear – this entry, and similar ones to come, is not going to turn into generalised rants. It's just that some things in the UK are a bit particular.
The first of these that I would like to examine are fire doors. Now, I am all for stopping fire wherever possible, but I do think the Brits get a bit obsessed with it. Between my desk and the canteen in my work building, a walk of perhaps 50 metres, there are no less than 6 fire doors that are to be kept shut at all times. Almost every door in an administrative building in the UK seems to have one of those blue 'Fire Door Keep Shut' stickers on it. So what are the reasons for this?

Do we have more fires in the UK? According to stats from the International Association for the Study of Insurance Economics, the UK has an equivalent number of fire deaths a year to other developed countries of a similar size, and indeed more than France or Germany. Read the PDF report here.
Do we maybe have a twisted conception of fear of fire? It's hard to know. Maybe the Brits are more fearful of getting burnt then others, and this is a reassuring measure? The Brits are more fearful of crime than most European countries, despite crime being lower than the European average in many areas. I don't know of any evidence to back up my fire fear theory though.
It could of course be to do with stringent health and safety at work regulations. But are we stricter than other countries in this regard? Are Swedish or Dutch firms and organisations not equally as attentive to the dangers?
Or is it to do with that last old reason – Britain's bad buildings. Maybe the materials we use are worse than in the rest of Europe, and the average age of our buildings older. Maybe there is also less investment in sprinker systems etc.? For sure very few British buildings use automated fire doors that close only when a fire alarm rings.
I would very much like to read suggestions about this – can anyone give me a good idea why the Brits have so many fire doors in their buildings?