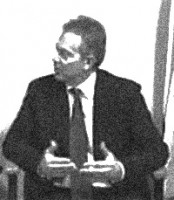 Politicians have the reputation of being boring and grey, and also predominantly male. So how does the UK cabinet shape up? And what might there be on the horizon? If you read until the end of this entry you'll find the table of stats but – in short – the demography of the UK Cabinet is not promising.
The average age of the 24 members of the Cabinet is today (18th December) 54.39 years – i.e. born in 1952, right in the middle of the baby boom period (population pyramids for the UK here). Only 5 of the 24 members of the Cabinet do not count as Baby Boomers – John Prescott and Margaret Beckett are too old, and David Miliband, Douglas Alexander and Ruth Kelly too young.
When it comes to gender balance things are fractionally better – 8 of the 24 are women, i.e. 1/3. This compares favourably to the situation in business – according to the 2006 Female FTSE report [pdf from Cranfield University here] female held directorships account for only 10.35% of all directorships in FTSE 100 companies.
Yet what is to come? I have not had the time to look at the dates of birth of all of the long list of UK ministers, but the gender balance is not promising – 19/69 of the Ministers of State and Parliamentary Secretaries are women – 27.5%, making it worse than the cabinet.
So the next time that someone (normally a man) makes the sort of comment that women's representation is assured just reel off some of the facts.
Alternatively, when one of the baby boom generation claims that years of life experience are necessary before assuming a government job, just remind that person that all bar three of the cabinet are closer to retirement than they are to their time at university, and get them to reflect on how that looks to a young generation that are increasingly turned off by politics.
UPDATE – 30.12.2006
I've since come across this article from Paul Anderson in Tribune last year that takes the same sort of line, and this post from Antonia that develops the point further about Labour's problems with the 1980s that cause such problems today. Some interesting food for thought there…
The Data
Compiled from The Number 10 website and Wikipedia. Data correct as of 18th December 2006. For the sake of these statistics, the Lords Chief Whip and Captain of the Gentlemen at Arms is included.
| | | | |
| --- | --- | --- | --- |
| NAME | POSITION | DoB | AGE |
| Tony Blair MP | Prime Minister, First Lord of the Treasury andMinister for the Civil Service | 6-May-53 | 54 |
| John Prescott MP | Deputy Prime Minister and First Secretary ofState | 31-May-38 | 69 |
| Gordon Brown MP | Chancellor of the Exchequer | 20-Feb-51 | 56 |
| Jack Straw MP | Leader of the House of Commons and Lord PrivySeal | 3-Aug-46 | 60 |
| Margaret Beckett MP | Secretary of State for Foreign andCommonwealth Affairs | 15-Jan-43 | 64 |
| Alistair Darling MP | Secretary of State for Trade and Industry | 28-Nov-53 | 53 |
| John Reid MP | Secretary of State for the Home Department | 8-May-47 | 60 |
| Patricia Hewitt MP | Secretary of State for Health | 2-Dec-48 | 58 |
| Tessa Jowell MP | Secretary of State for Culture, Media andSport | 17-Sep-47 | 59 |
| Hilary Armstrong MP | Minister for the Cabinet Office and for SocialExclusion (and Chancellor of the Duchy of Lancaster) | 30-Nov-45 | 61 |
| Peter Hain MP | Secretary of State for Northern Ireland, andSecretary of State for Wales | 16-Feb-50 | 57 |
| Valerie Amos | Leader of the House of Lords and LordPresident of the Council | 13-Mar-54 | 53 |
| Charlie Falconer | Secretary of State for Constitutional Affairsand Lord Chancellor | 19-Nov-51 | 55 |
| Hilary Benn MP | Secretary of State for InternationalDevelopment | 26-Nov-53 | 53 |
| Alan Johnson MP | Secretary of State for Education and Skills | 17-May-50 | 57 |
| Ruth Kelly MP | Secretary of State for Communities and LocalGovernment, and Minister for Women | 9-May-68 | 39 |
| John Hutton MP | Secretary of State for Work and Pensions | 6-May-55 | 52 |
| David Miliband MP | Secretary of State for Environment, Food andRural Affairs | 15-Jul-65 | 41 |
| Des Browne MP | Secretary of State for Defence | 22-Mar-52 | 55 |
| Douglas Alexander MP | Secretary of State for Transport and Secretaryof State for Scotland | 26-Oct-67 | 39 |
| Hazel Blears MP | Minister without Portfolio | 14-May-56 | 51 |
| Jacqui Smith MP | Chief Whip (Parliamentary Secretary to theTreasury) | 3-Nov-62 | 44 |
| Stephen Timms MP | Chief Secretary to the Treasury | 29-Jul-55 | 51 |
| Bruce Grocott | Lords Chief Whip and Captain of the Gentlemenat Arms | 1-Nov-40 | 66 |