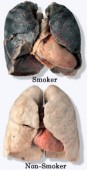 Having spent time in Sweden that has such a ban already, and having recently been repulsed by too much smoking in public in Austria, it's with great joy that I heard the news this evening that the UK will get a full smoking ban in pubs and restaurants. Further, MPs voted in favour of the ban with a large majority:
The Commons decided by a margin of 328 to ban smoking from all pubs. It then voted by 200 to extend this to clubs.
Here's the article from the BBC about it. It won't happen until 2007, but better late than never! I just hope that Labour makes a big, big thing of how good this is!