Looking for new diagrams? There is a whole new series from May 2019 onwards here!
Diagrams as featured by The New York Times!
I have tried to make sense of Brexit through a series of flow diagrams that have evolved as Brexit decisions have been taken. This blog post gathers those diagrams together, the newest versions first. In each case click the image to see the full resolution version.
All diagrams are made with draw.io. If you want to use these files for your own purposes, feel free – everything is Creative Commons Sharealike licensed. Dutch news site did precisely that here!
There are two sets of diagrams – the ones around the 29th January vote on amendments to Theresa May's Brexit plan are at the top of this post (high res versions, draw.io XML files, and probability calculations in .ods files can be found here), and the earlier ones relating to the Meaningful Vote below (high res versions and draw.io XML files of those can can be found here).
Version 26 – 11.4.2019, 1400
6 month Article 50 extension agreed – what next?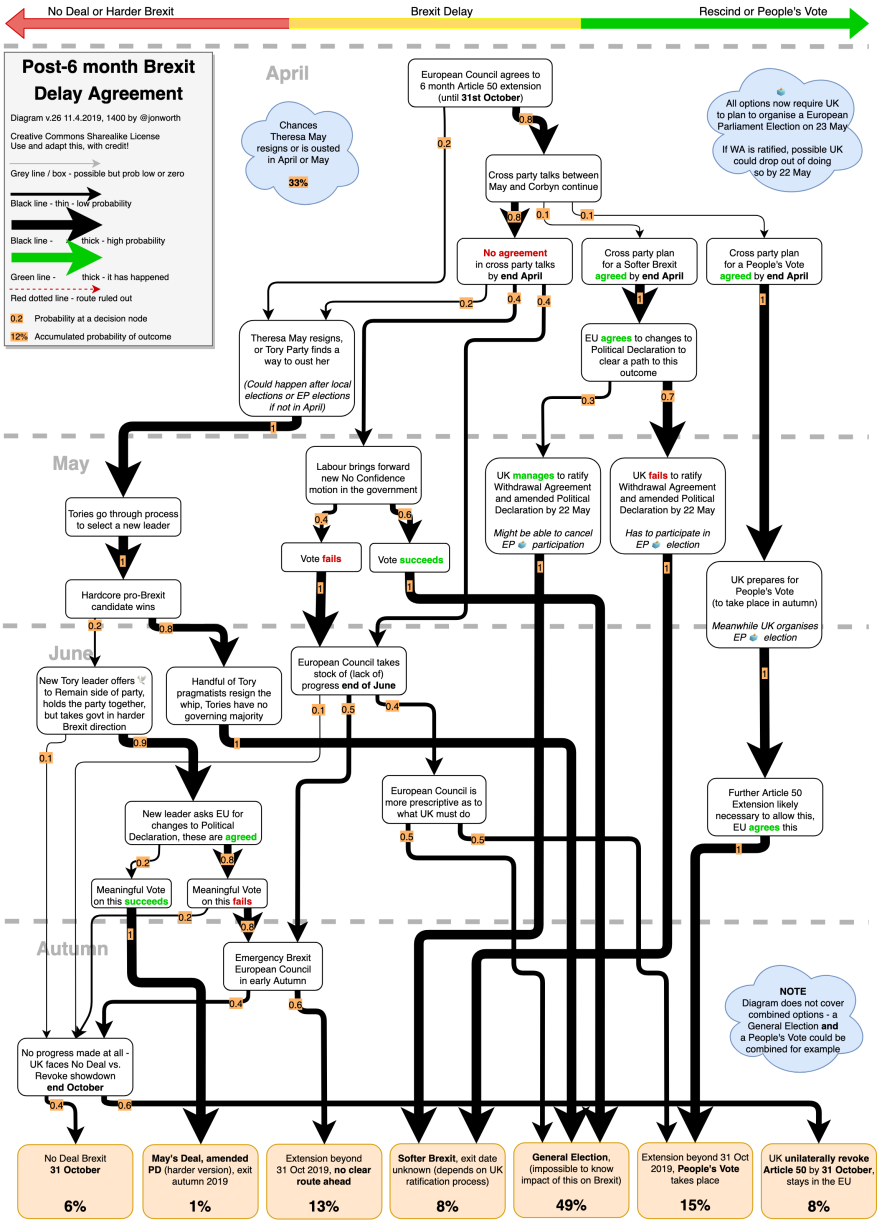 Version 25.2 – 9.4.2019, 0900
Slightly amended, prior to the European Council 10 April and Brexit 12 April?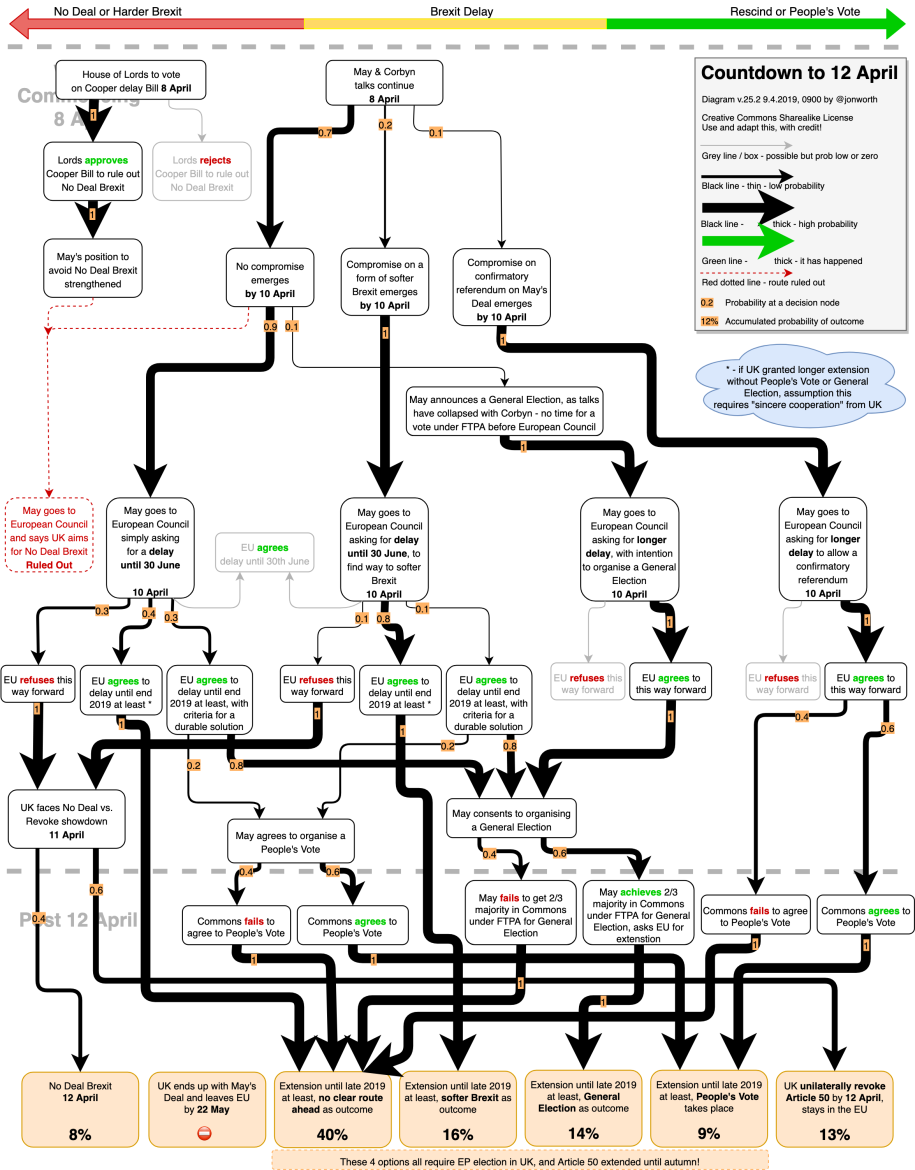 Version 25 – 7.4.2019, 2100
Prior to the European Council 10 April and Brexit 12 April?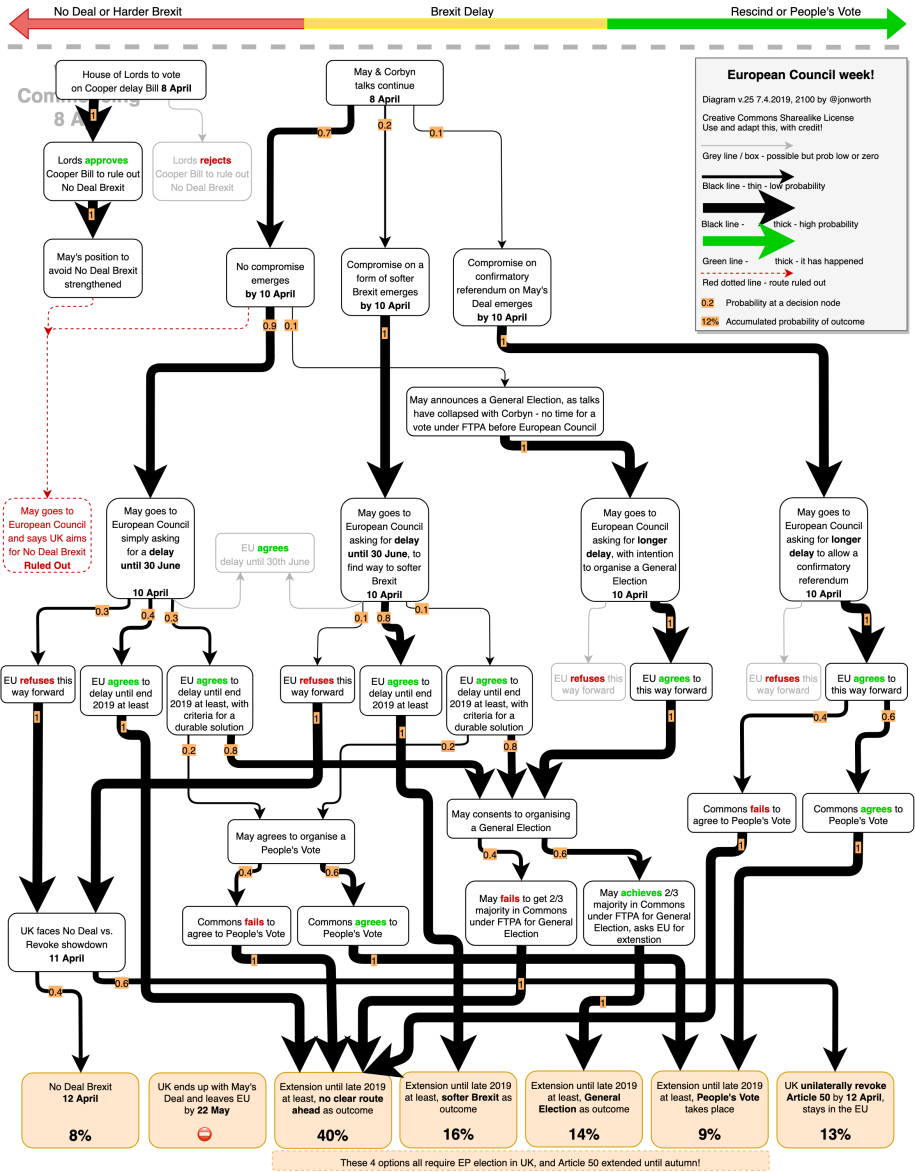 Version 24.1 – 2.4.2019, 1400
Post Indicative Votes Round 2, slightly revised.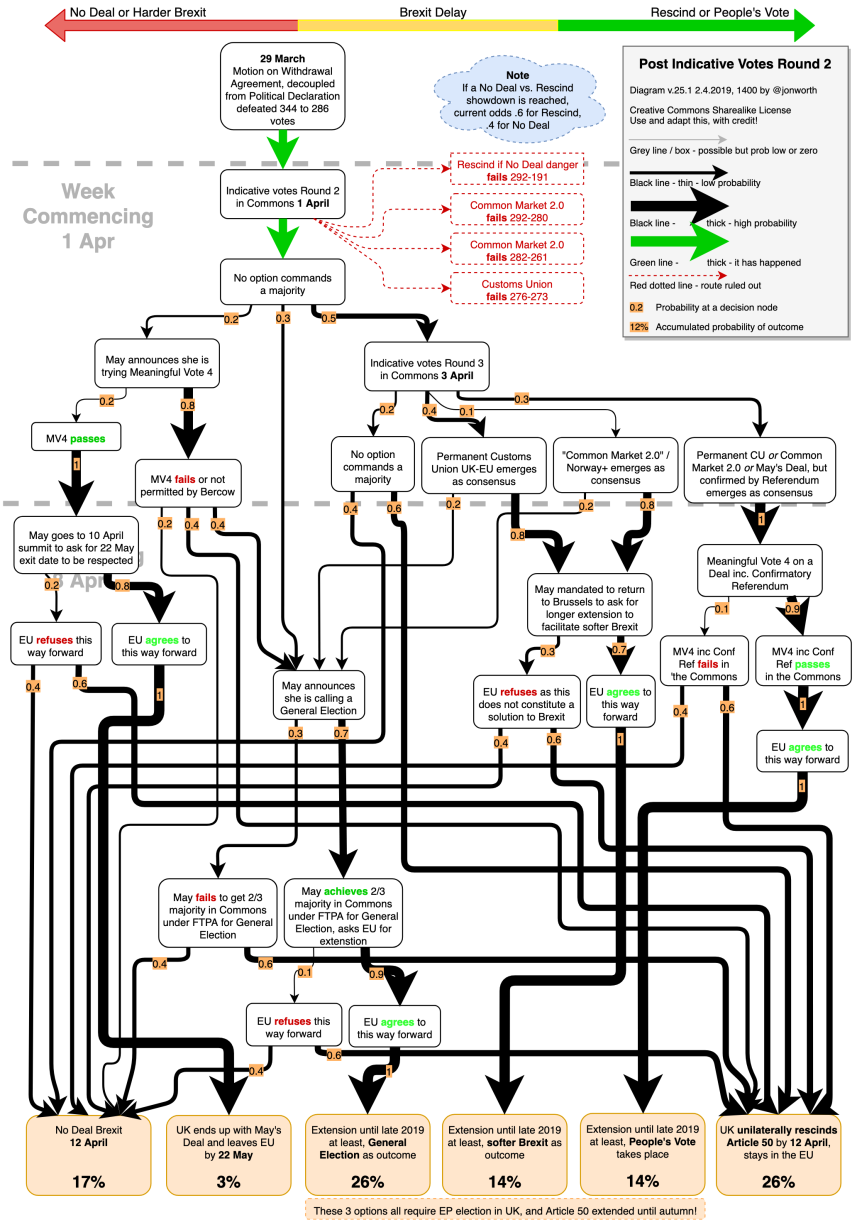 Version 23.1 – 1.4.2019, 1800
Prior to Indicative Votes Round 2.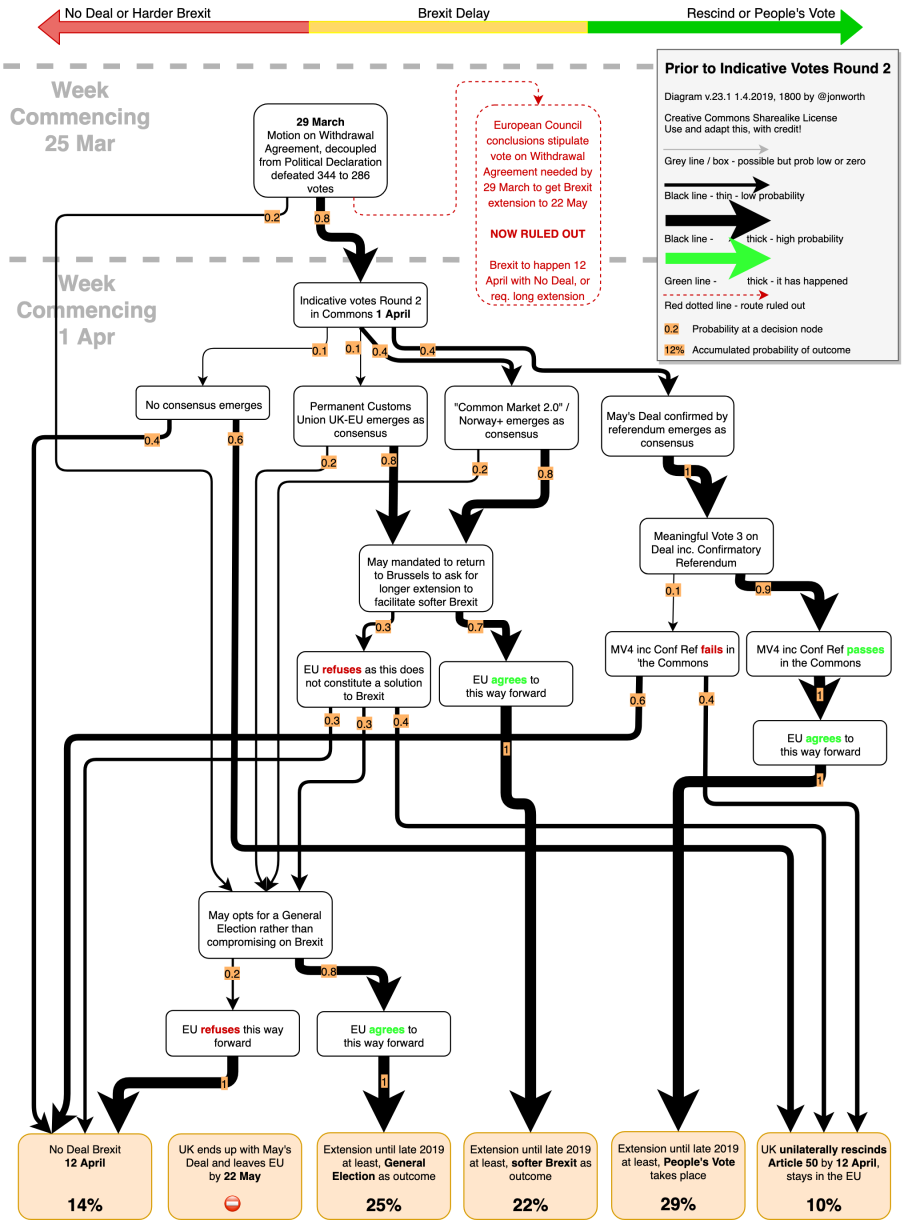 Version 23 – 29.3.2019, 1630
May's 3rd vote to get the deal through fails.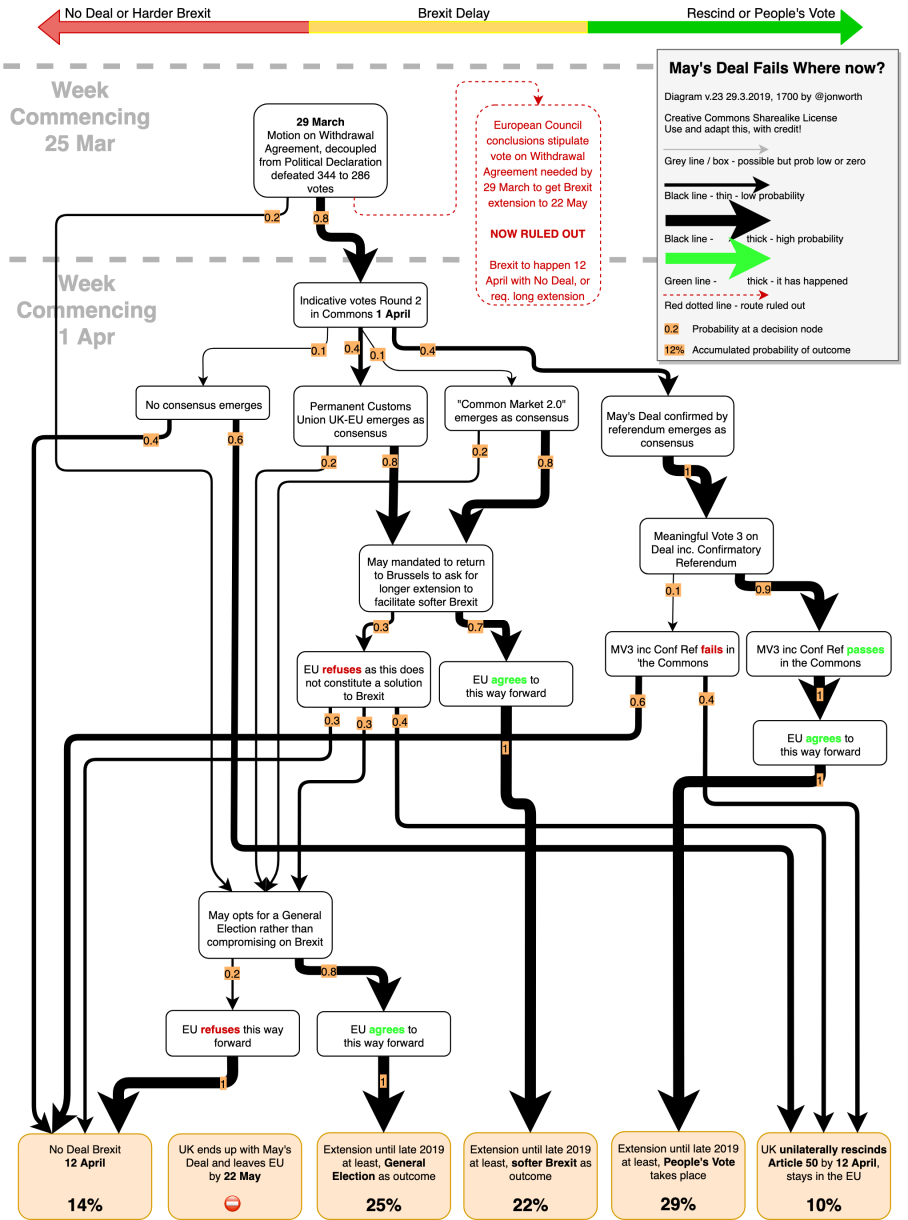 Version 22 – 25.3.2019, 1815
May not holding a Meaningful Vote on 26 March, and then chances of indicative vote outcomes.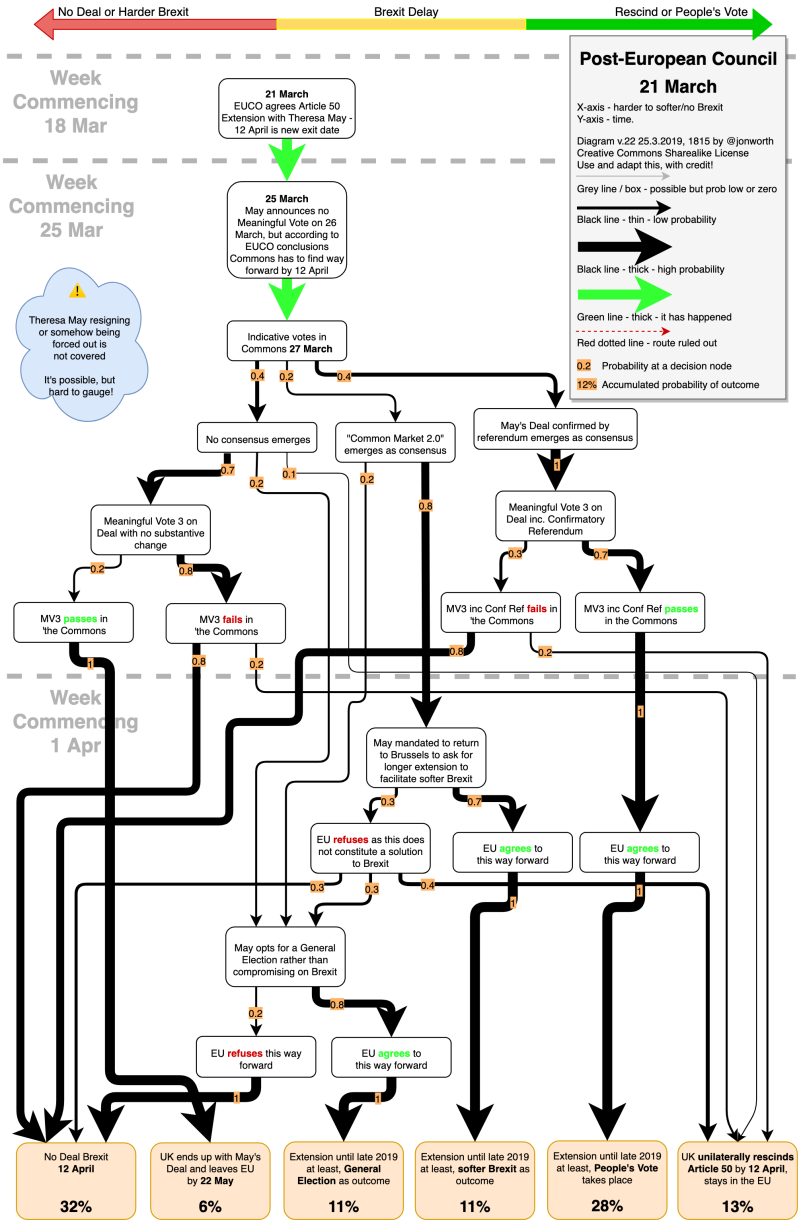 Version 21.2 – 25.3.2019, 1545
In light of the Extension system agreed at EUCO late on 21 March, and subsequent comments on Meaningful Votes and indicative votes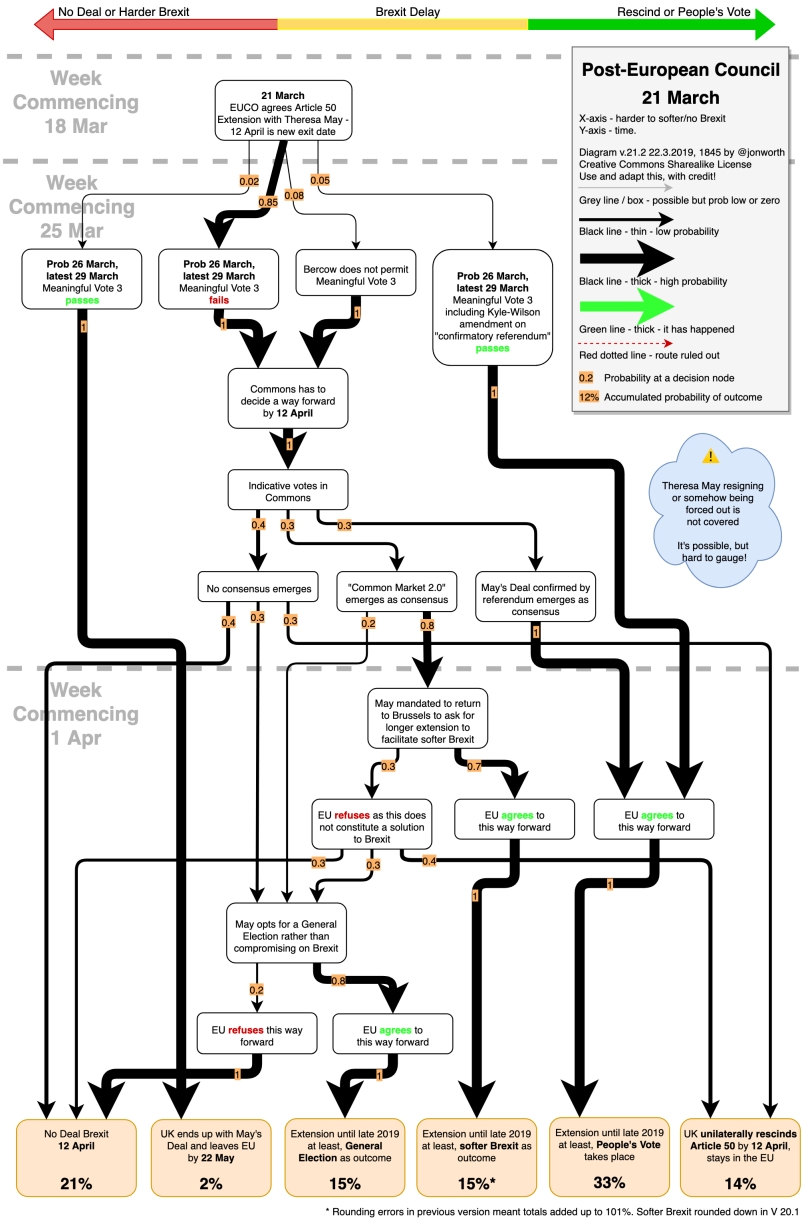 Version 20.1 – 21.3.2019, 1445
Adjustments and detail a week ahead of Brexit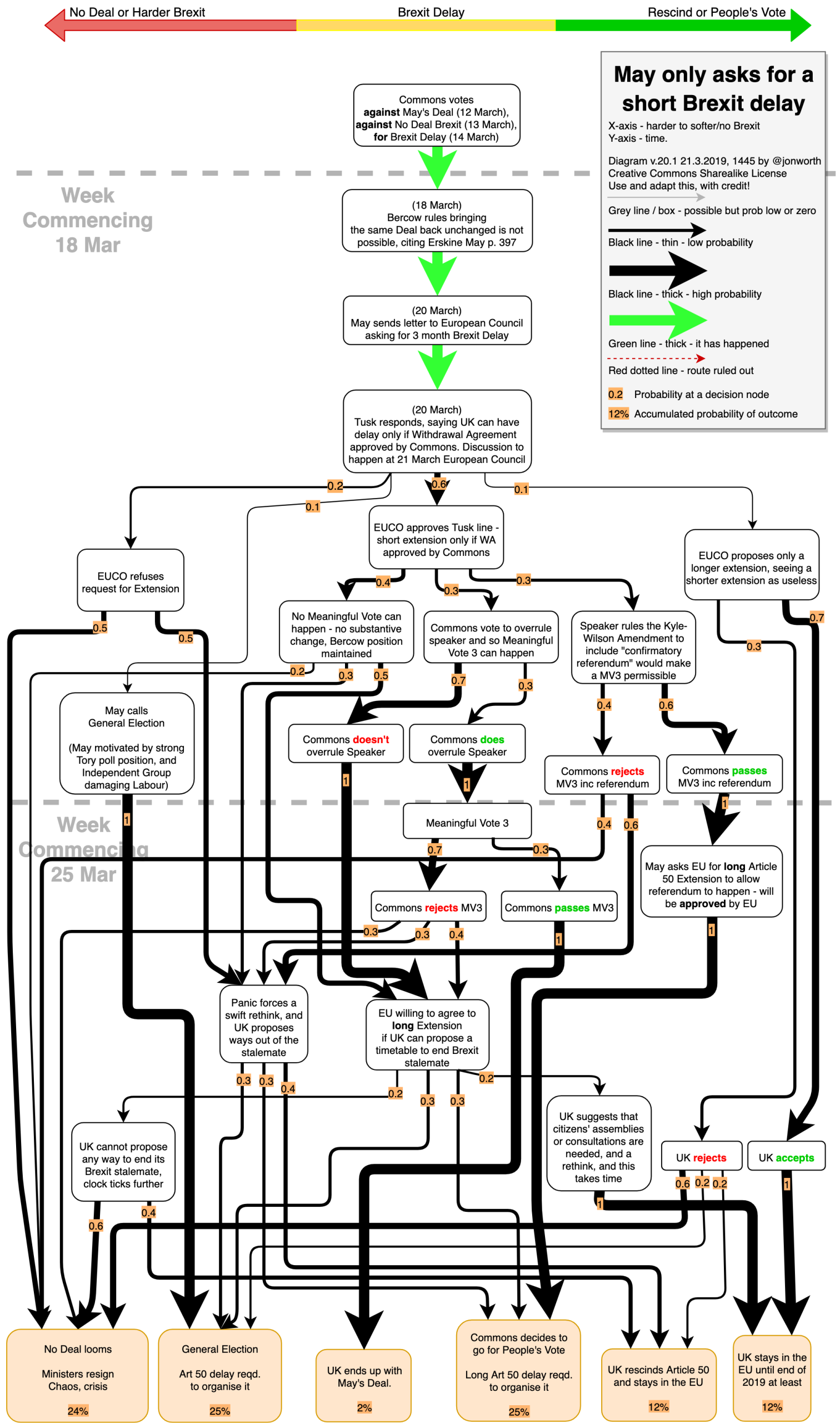 Version 19.1 – 15.3.2019, 1900
Adjustments and detail after version 19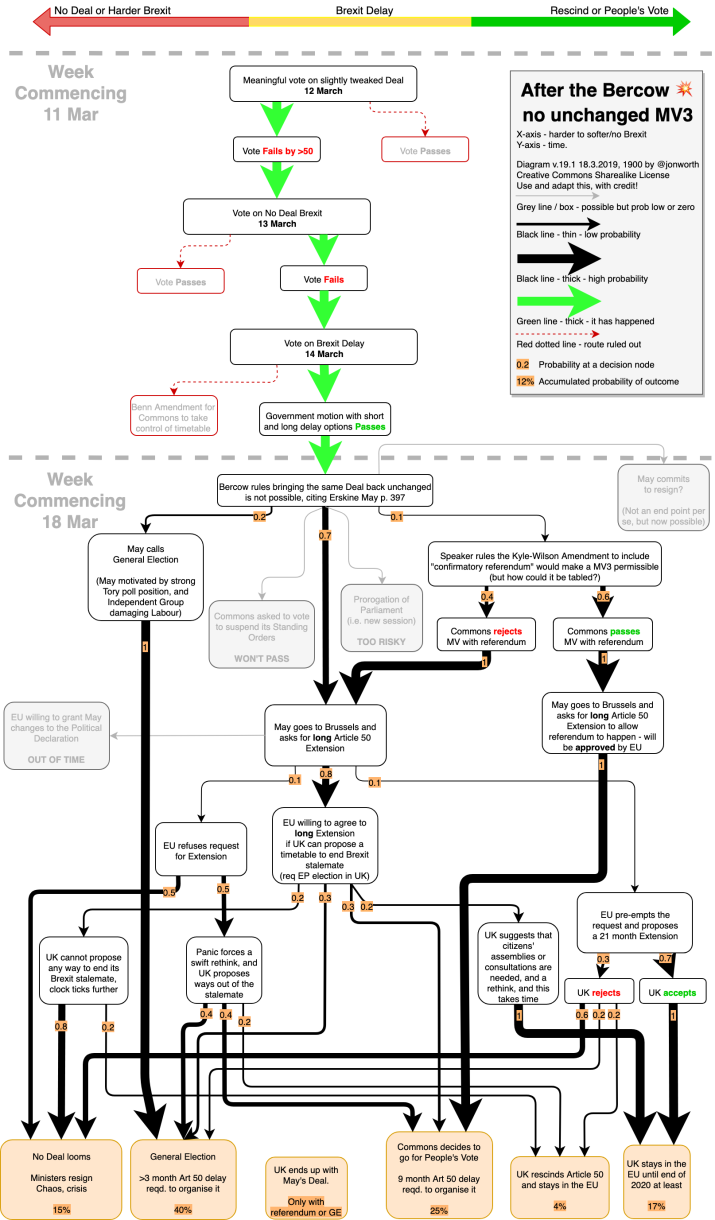 Version 19 – 15.3.2019, 1800
Post Bercow ruling out a Meaningful Vote on an unchanged Brexit Deal (but presuming the Kyle-Wilson Amended version would be allowed)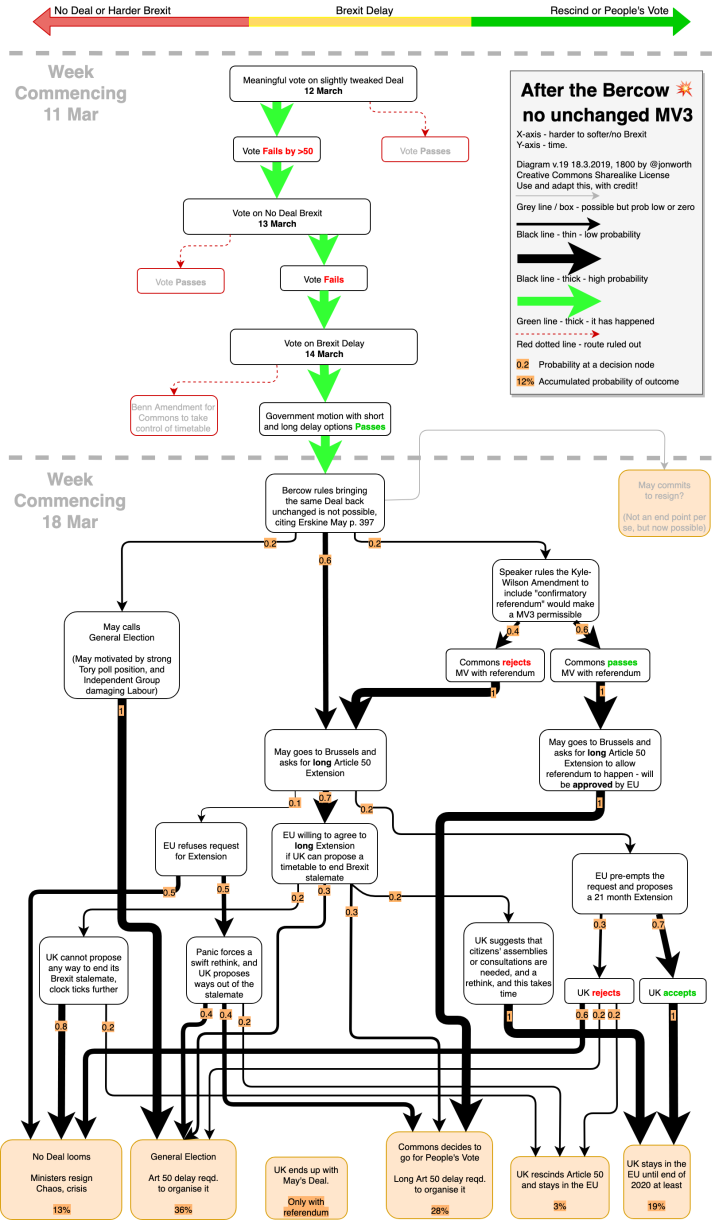 Version 18.1 – 15.3.2019, 1100
After all the votes 12-14 March.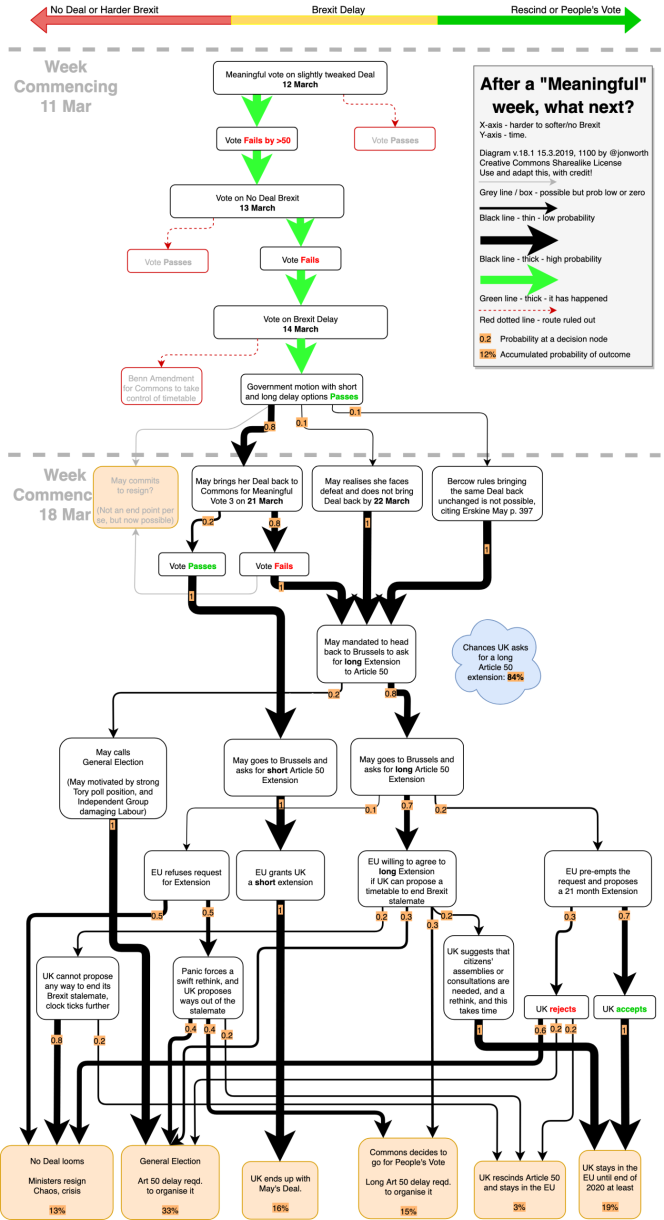 Version 17 – 14.3.2019, 0900
After the vote in the Commons to reject No Deal. But No Deal is still possible.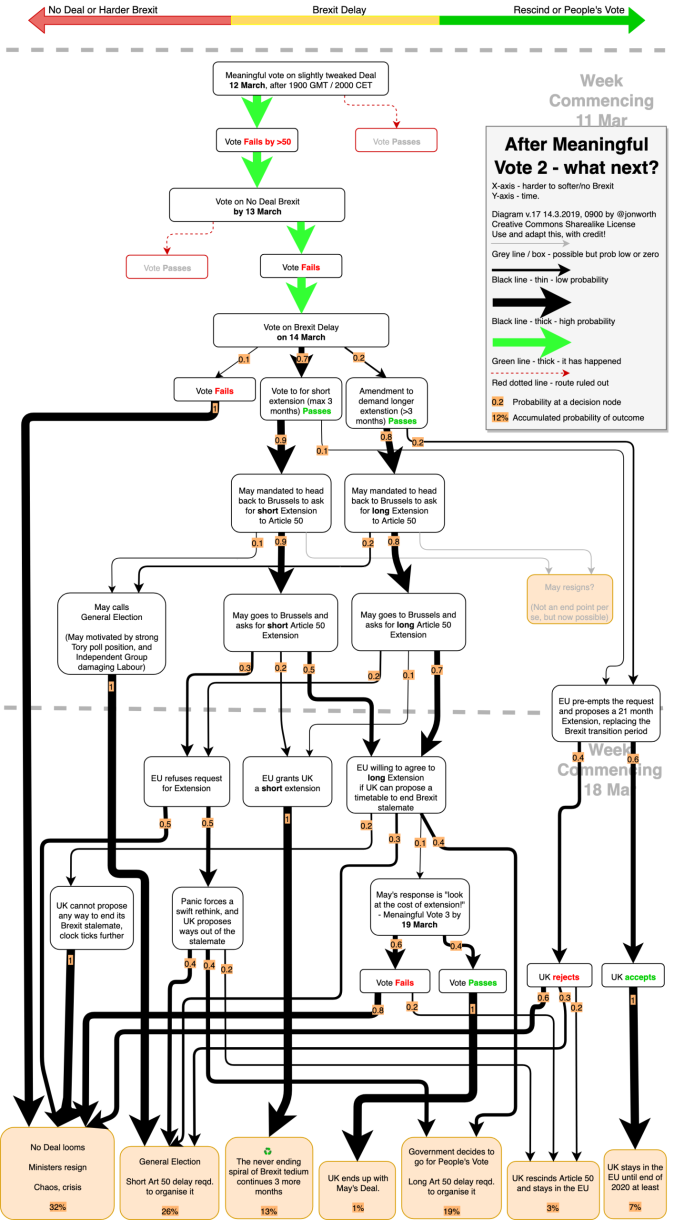 Version 16 – 13.3.2019, 1730
After Meaningful Vote 2.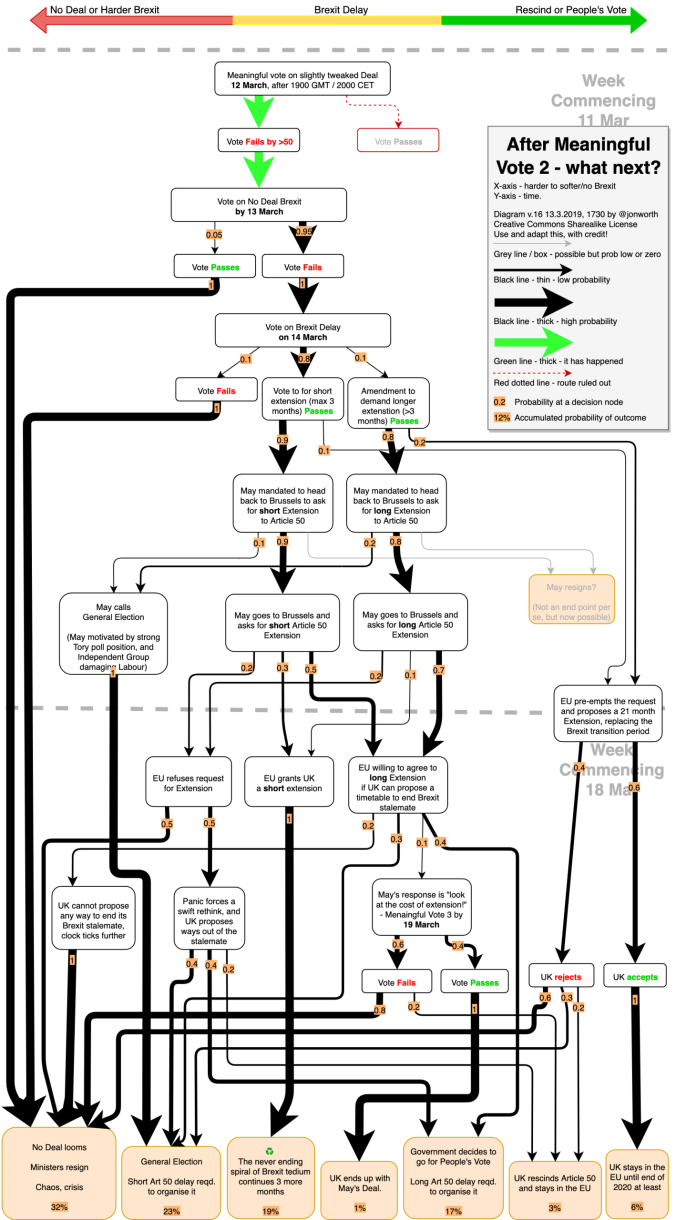 Version 15.1 – 12.3.2019, 1445
Before Meaningful Vote 2. After Cox said "legal risk remains unchanged"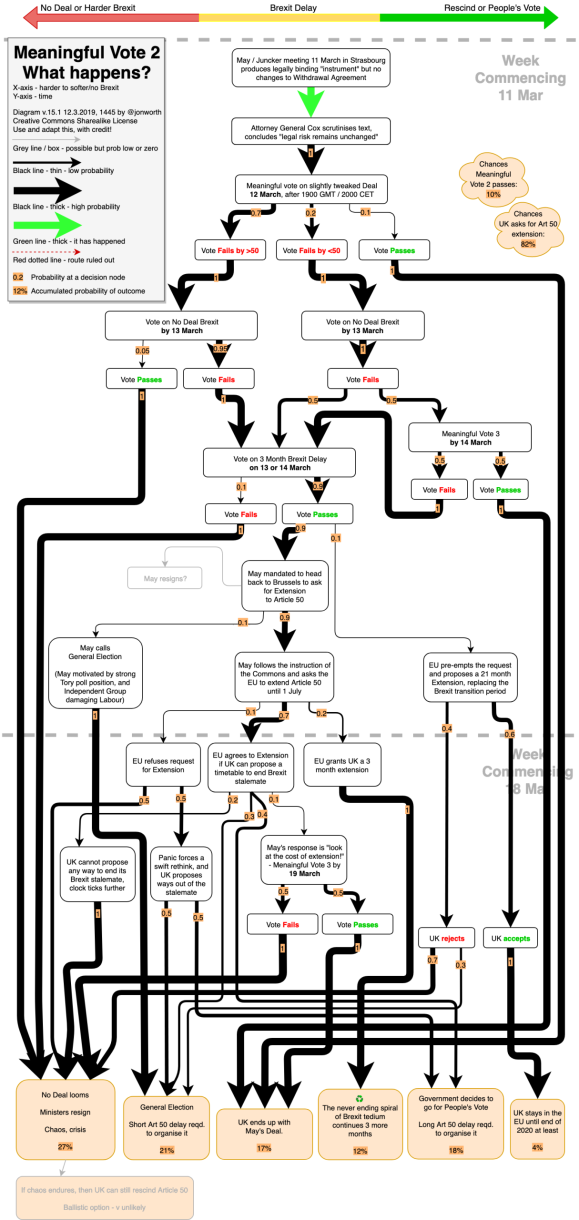 Version 14 – 7.3.2019, 1720
Adding the prospect of a 3rd "Meaningful Vote".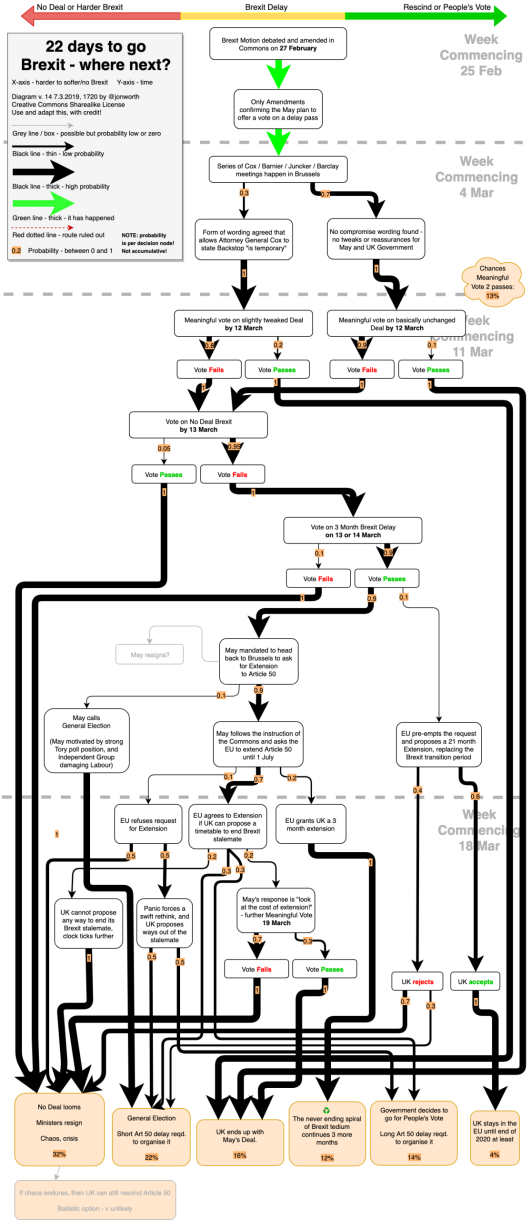 Version 13.1 – 7.3.2019, 1315
Adjusting accumulative probabilities, and adjustments at the top based on the news that there has been no progress in Brussels this week.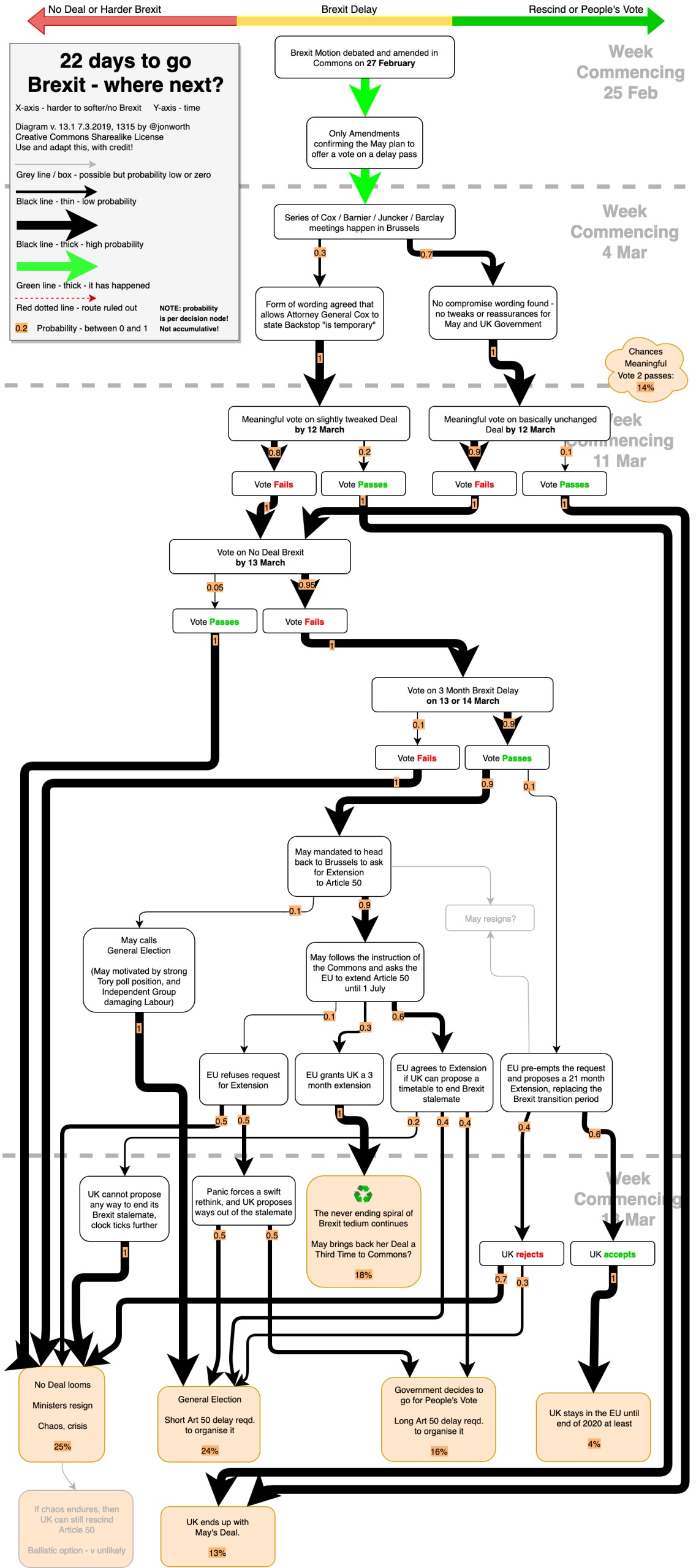 Version 12 – 27.2.2019, 1000
Adding accumulative probabilities, and adding the idea that the EU might pre-emptively offer the UK an extension. Design also more compact.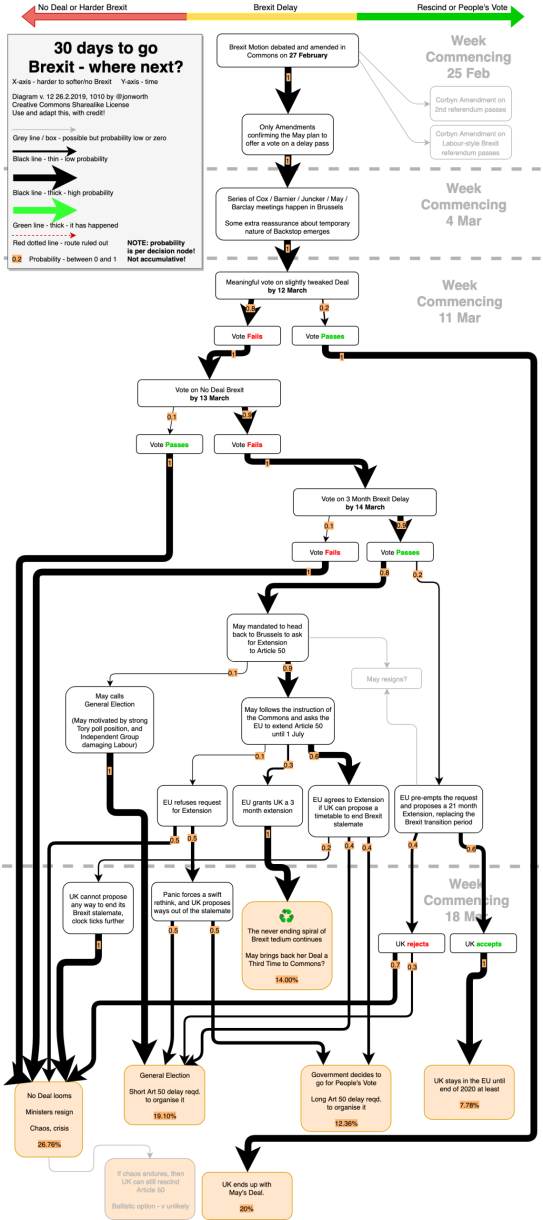 Version 11 – 26.2.2019, 1830
Cooper-Letwin Amendment withdrawn
Version 10 – 25.2.2019, 2120
Incorporating Corbyn backing a People's Vote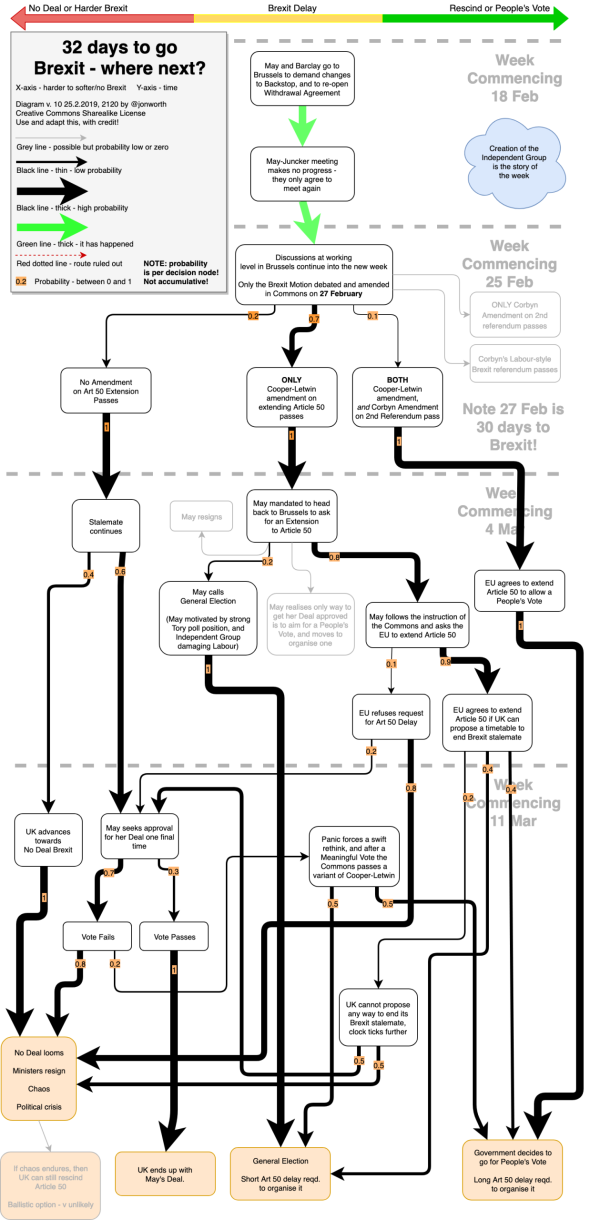 Version 9 – 24.2.2019, 1730
So May has said there will be no Meaningful Vote in February. So there's a new diagram!
Version 8 – 23.2.2019, 0900
This one takes into account the emergence of the Indepedent Group, and what might happen if and when the UK requests an extension of Article 50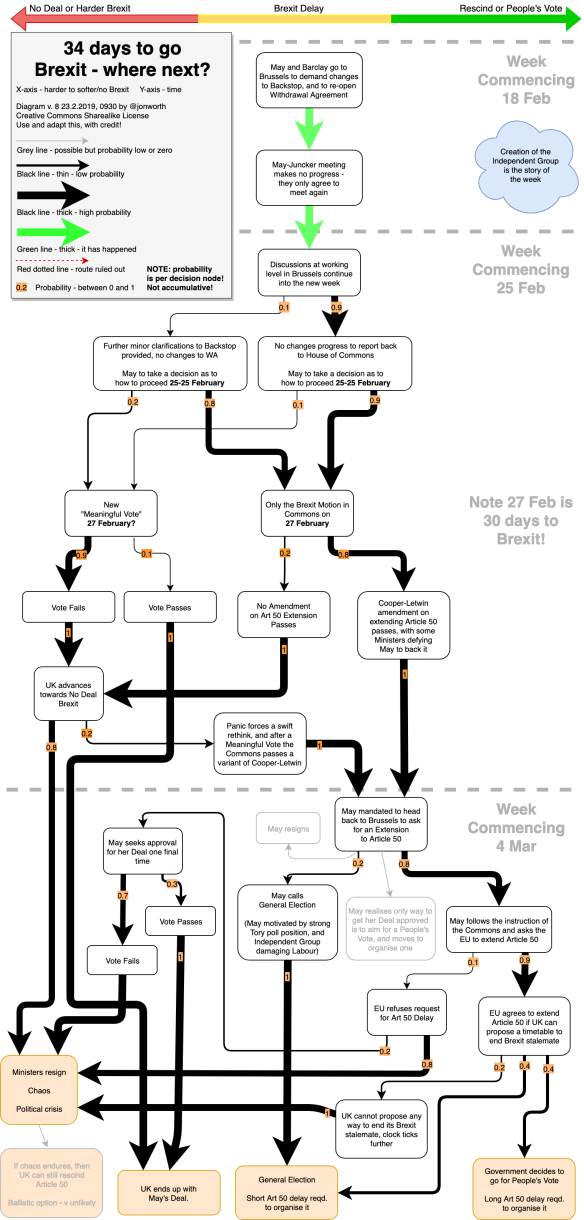 Version 1 – 27.1.2019
(this one really did not work! It needed a major rethink for version 2, above!)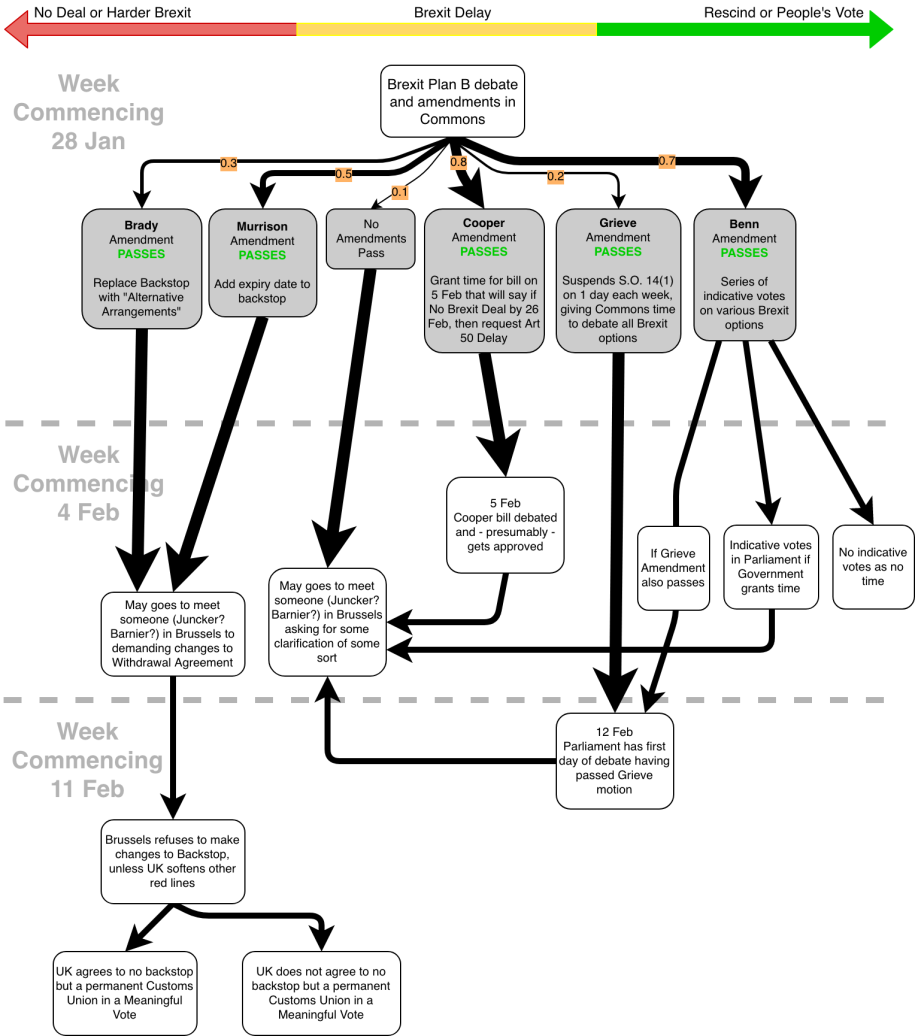 You can of course opt for the David Landon Cole simplified version!
I've produced a slightly simplified version that may be instructive. pic.twitter.com/4H7OJfOByf

— David Landon Cole (@dlandoncole) January 17, 2019