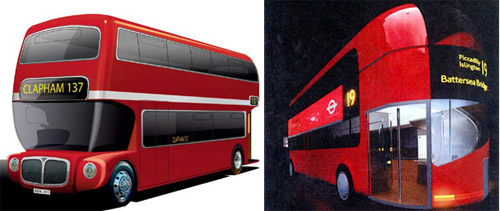 Woo hoo. London is going to get a new Routemaster bus, for Mayor Boris has declared it will happen. He's announced 2 winners in his design competition. The winners are shown above. The buses are to be on the streets by 2011. Not. A. Hope. Here's why.
Firstly, how long does it take to develop a new bus? A very long time, and even longer if you start from scratch. Every new bus design is an evolution of what was built before with gradual changes and adjustments. The Enviro400 bus on London's streets is an evolution of the ALX400, while the Mercedes Citaro has been evolving since its launch in 1997. In the car world look at how the Volkswagen Golf has evolved and think the same way. At least 5 years pass between each iteration of the Golf, yet Boris reckons he can get a bus running in 3 years. No way. As far as I am aware I don't think there's even a manufacturer for the thing yet!
Secondly, look at the parts a bus is going to need. UK double decker buses have 2 essential components: the chassis and the bodywork. There are 3 main players in the chassis manufacturing business: Scania, Volvo and Alexander Dennis. All the chassis designs have a rear engine with a short overhang. One of the winning designs in Boris's competition, pictured above left, has a front engine, a low floor, and rear wheel drive. So the driveshaft between engine and wheels goes where exactly? No idea where the engine is even located on the other design, but look at the fat rear of that bus and where the stairs go, and compare that with one of today's double deckers and you would see that even there a complete new chassis design is needed. So this is not just about fancy bodywork; under the skin everything would need to be new as well.
Thirdly, are these designs actually any good? Well they look cool and fancy, but I would not like to see either of those buses on a bumpy London street. First of all the left design is very low to the ground, and the right design has a huge rear overhang. Plus due to plenty of sharp corners in London there is a limit on how long a bus can be, and in that space you need to fit in as many passengers as possible. Are either of these designs the most efficient possible in terms of passenger numbers per metre of bus length? Also I wish London would learn from the NEOMAN A39 in Berlin and add a second staircase to facilitate passenger flow. There are also all these swanky features that are planned on the Boris routemaster – solar panels, wooden floors. How are those things going to cope with the abuse buses take from thousands of passengers every day?
Fourthly, finance. All other models of bus are for sale all over the place – either across Europe, or in the case of Alexander Dennis, in Hong Kong and the USA as well as the UK. London might be a large bus market, but it is only a tiny fraction of the total market for buses in Europe. So would any manufacturer manage to make a profit on something intended just for London? I doubt it. Seems that on this one Boris only understand one half of being a Tory – he's reminiscing about the past, but has forgotten that public transport, at least in terms of delivery of new buses, is a market economy.
For more on this story have a read of Diamond Geezer who is just as sceptical as I am, while Railway Eye compares Boris's plans with the ill fated Intercity Express Programme.
Sorry Boris, but your bus plan is complete and utter bollocks.
[UPDATE] Political Animal also hates the outcome, and dissects Andrew Gilligan's take on it. Well worth a read.
[UPDATE 2] Does anyone assume that one of these things could actually accelerate? I've found some specs for the Capoco design at Wonderbus. Specs PDF here. This bus would have a hydrogen power system rated at a measly 82kw. Yes, 82kw. The least powerful diesel bus engine made by Volvo for their double deckers is 191kw, i.e. more than twice as powerful. OK, the new routemaster is supposed to be a few tonnes lighter than current London buses, but when you count in 100 passengers at 65kg each the percentage weight difference is not that much. Which planet are these people living on? Mercedes has a hydrogen Citaro that has a 220kw motor but look at the space on the roof needed for the hydrogen storage… Oops – where's the space for that in the double decker design?
[UPDATE 3]
I've subsequently been informed of this piss-take video about Cameron, Boris and buses. It deserves more than the 3K views it has received on Youtube!