I have the great privilege of having been chosen as one of the PES Activists to write a blog on the Party of European Socialists Website about the PES Congress taking place 7-8 December in Porto. The blog can be found here. However the functionality of the system there is a little bit limited – no photos are allowed for example – so I'll cross-post everything here in the category 'PES Congress'.
RSS-feed for the Congress blogging are also available:


RSS 0.92 – click or copy https://euroblog.jonworth.eu/?cat=8&feed=rss


RSS 2.0 – click or copy https://euroblog.jonworth.eu/?cat=8&feed=rss2


ATOM 0.3 – click or copy – https://euroblog.jonworth.eu/?cat=8&feed=atom
To read the my first post:
Football or Politics in Porto this week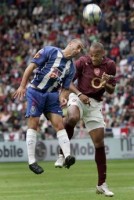 I will be one of a very large number of Europeans leaving London and heading to Porto on Wednesday this week. The reason most will be flying there: this Wednesday's Champions League football group match between Porto and Arsenal. It's the most normal thing for thousands of football fans to do: travelling across Europe to follow their team. Furthermore, many Champions League teams are microcosms of European integration; where would Arsenal be without Thierry Henry or Freddie Ljungberg?
Yet in politics we're a long way behind. Very few Europeans of different nationalities have ever really succeeded in the political system of another Member State. It's not even possible to vote in national elections elsewhere; not really a level playing field.
I've personally been at the forefront of efforts to do something about this issue, most notably through work with the Swedish Social Democrats (SSU Stockholms-län) to arrange exchanges of activists for general election campaigns in the UK in 2005 and Sweden in 2006. We need initiatives like this for every election in every country.
That's what makes attendance at the PES Congress so exciting; it's the first time that activists have been welcomed there, making the Congress something more than a meeting of the top officials of all the PES member parties.
I don't think any of us PES Activists are quite sure what awaits us in Porto. Yet we will all be full of energy and ideas, and I'll be posting as many of my observations on this blog over the next week to allow those unable to attend to get a flavour of the event. I look forward to plenty of comments and a lively debate!