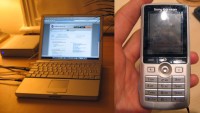 Part of my task as a blogger at the PES Congress is to demystify what is going on there for those that are unable to be present on the spot. Yet it's also worth spending a moment to demystify the very process of writing the blog and keeping it up to date.
The technology is all quite mainstream. I have an Apple Powerbook laptop (although any laptop PC would do just fine), and any photos appearing here are taken using my Sony Ericsson K750i camera phone. I then download the photos via a Bluetooth wireless connection, and edit them with Adobe Photoshop (although any free image editing software will do the job – try GIMP for example).
I then connect to the internet using a wireless internet connection (WLAN) at my hotel or at the conference centre, and use 2 pieces of freely-available software to publish the blog – Joomla for the PES website, and WordPress for my own blog.
Blogging is an increasingly important means of political communication, and the technology is readily available – so what are you waiting for? If you have any questions about the technology, please post them here and I'll be happy to give some answers where I can.