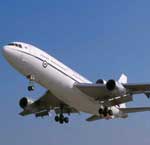 If you were a head of state or Prime Minister, wouldn't you want your own plane? Or perhaps the question should be how does the UK government not already have a dedicated plane for state business. Yet the decision this week to purchase 2 planes for use by the Prime Minister, the Queen and others – at a cost of about £12 million a year to run them – has raised an enormous storm. Story from the Guardian News Blog here, and an analysis of the plane from The Times here.
Let's face it: Blair (or future PMs) are going to have to fly around anyway. £12 million is a pittance in the overall government budget. And if this ensures safety for the PM, and allows better structuring of his work, then what is the problem? I simply hope that Blair does not want to use his plane in the way Jacques Chirac has, keeping the plane in the air for twice the time needed so he could sleep on the way to Sochi – BBC news story here.
Last but not least, I can completely understand why Blair – like anyone else with any sense – would want to avoid normal flights, especially from Heathrow (where I was massively delayed again yesterday!) But the PM's time is more valuable than mine, and if he needs to get to summits or meetings, then let's get him there in a sensible fashion.